Kodaira and Bloemen set world speedskating records
Japan's Nao Kodaira and Canada's Ted-Jan Bloemen on Sunday set world records on the final day of the World Cup speedskating event at the Utah Olympic Oval.
Kodaira finished in 1 minute, 12.09 seconds in the women's 1,000m, her third race victory in three days. American Brittany Bowe held the previous record of 1 minute, 12.18 seconds.
Bloemen finished in 6 minutes, 1.86 seconds in the men's 5,000m. Dutch skater Sven Kramer held the previous record of 6 minutes, 3.32 seconds.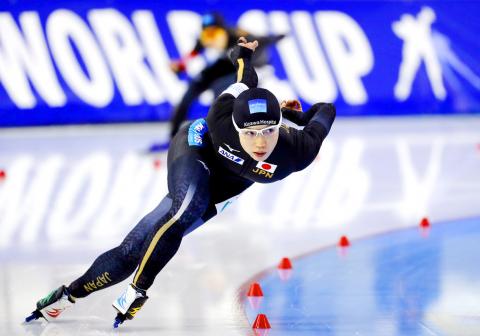 Nao Kodaira skates in the 1,000m on Sunday in Kearns, Utah.
Photo: Jeff Swinger / USA Today
Bowe finished in 1 minute, 13.55 seconds to place sixth.
Seeing her world record fall broke Bowe's heart, but she took comfort in ending the weekend with her strongest performance over three days. She showed progress after losing significant time to injuries a year ago.
"I definitely felt stronger than I have so far this year," Bowe said.
Russia's Denis Yuskov won the men's 1,000m in 1 minute, 6.92 seconds, edging Dutch skater Koen Verweij, who finished 0.02 seconds later.
Jonathan Garcia was the top American in seventh after setting a personal best of 1 minute, 7.40 seconds.
He said his performance was about 90 percent of where he wants to be, but feels like he is on an upward trend ahead of next year's Olympics.
He said his main goal is to simply not peak too early over the next two months.
"I know myself — I've been skating for 23 years." Garcia said. "I can't maintain being my best every day for six months or two months. I really have to make sure I strategically place myself where I need to be throughout the season."
Comments will be moderated. Keep comments relevant to the article. Remarks containing abusive and obscene language, personal attacks of any kind or promotion will be removed and the user banned. Final decision will be at the discretion of the Taipei Times.