Irving scores 47 as Celtics down Mavs
BOSTON FIGHT BACK: Harrison Barnes missed a jumper with less than a second to go in regulation that could have won it for the Dallas Mavericks, who fell to 3-15
Double-digit deficits are becoming just a minor annoyance to the Boston Celtics as they continue their winning ways.
Kyrie Irving on Monday scored 10 of his season-high 47 points in overtime as the Celtics rallied from 13 points down in the fourth quarter to beat the Dallas Mavericks 110-102 and extend their winning streak to 16 games.
The winning streak ties the fourth-longest in franchise history and for the third game in a row Boston trailed by double digits.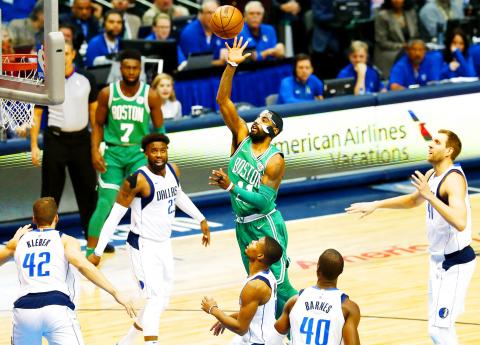 Kyrie Irving of the Boston Celtics, third right, goes to the basket against the Dallas Mavericks in their NBA game in Dallas, Texas, on Monday.
Photo: EPA-EFE
In contrast to the wins over Golden State and Atlanta, this one required a fourth-quarter comeback. For that, the Celtics turned to Irving, who delivered his best performance for his new team after Dallas had taken an 87-74 lead with 7 minutes, 47 seconds to play.
"For us it's just about battling back when teams get a comfortable rhythm, whether it'd be in the first half or the second half," Irving said. "As a group we continue just to stick together throughout anything and everything."
Irving stole the ball from Dirk Nowitzki and fed Jayson Tatum for an alley-oop layup that hung on the rim for a full second before dropping through with 1:01 to play to tie the score at 96-96.
In the extra period, Irving scored his team's first six points. Then after Jaylen Brown gave Boston a 104-102 lead with a jumper with 1:39 to play, Irving went to work on Yogi Ferrell, backing him down and drawing contact on a layup with 48.5 seconds to play.
Though Irving missed the free throw to keep the score 106-102, Dallas never got closer.
"I don't really see it as a pressure situation," Irving said. "It's just like playing basketball, man. It's just like being in a park 7-7 and game is eight."
Harrison Barnes scored 31 points and Wesley Matthews had 18 for Dallas.
Barnes missed a jumper with less than a second to go in regulation that could have won it for Dallas, who fell to 3-15.
"We just needed to make a couple more plays at key times," Mavericks coach Rick Carlisle said. "Probably just one more key play in the last minute or minute and a half. That would have been the difference."
Comments will be moderated. Keep comments relevant to the article. Remarks containing abusive and obscene language, personal attacks of any kind or promotion will be removed and the user banned. Final decision will be at the discretion of the Taipei Times.