Despite Trump and haircut hoopla, Ball just plays ball
Lonzo Ball's haircuts are headline news around Los Angeles and the NBA.
His father already draws more attention than most politicians and LaVar Ball is even engaged in a public argument with the US president.
Through all of this extraordinary attention on a 20-year-old point guard and his family, Lonzo Ball has managed to remain focused on his rookie season with the Los Angeles Lakers.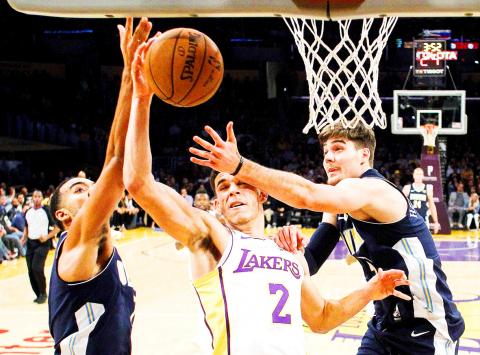 Los Angeles Lakers guard Lonzo Ball, center, grabs a rebound against the Denver Nuggets in their NBA game in Los Angeles, California, on Sunday.
Photo: AP
He broke through the distractions with another beautiful game against Denver.
Lonzo Ball on Sunday had his second career triple-double, while Julius Randle scored 24 points in the Lakers' 127-109 victory over the short-handed Denver Nuggets.
With 11 points, a career-high 16 rebounds and 11 assists, Lonzo Ball reached the milestone at 20 years, 23 days — the exact age at which LeBron James became the youngest player to record his second triple-double in 2005.
Lonzo Ball became the youngest player in NBA history with a first triple-double eight days earlier in a loss at Milwaukee.
"This one was a lot better," he said. "I actually like this one. Just keep building on it."
Lonzo Ball and Magic Johnson are the only Lakers with multiple triple-doubles in their rookie seasons. Johnson had seven and his new point guard has two in his first 17 games.
"You should always play better in front of your fans, so I'm just trying to put on a good show for them and win at the same time," Lonzo Ball said.
He had another big game at another turbulent moment in his family life.
With his father beefing with US President Donald Trump over the president's role in resolving brother LiAngelo Ball's legal issues during a UCLA basketball trip to China, Lonzo Ball put together an outstanding floor game to boost the Lakers to just their second win in seven games.
"Never with a young man like this, his age, have I seen it," Lakers coach Luke Walton said of the circus surrounding Lonzo Ball's every move.
Denver coach Mike Malone and top scorer Nikola Jokic were ejected in the second quarter after Malone stepped onto the court during play to argue a no-call on a play by Jokic around the basket.
Malone furiously confronted referee Rodney Mott, who swiftly ejected the coach and his best player when Jokic joined in the argument.
"I'll be honest, I deserved to get tossed, but Nikola Jokic did nothing to warrant an ejection," Malone said. "That's something that we'll try to look into if we can."
Comments will be moderated. Keep comments relevant to the article. Remarks containing abusive and obscene language, personal attacks of any kind or promotion will be removed and the user banned. Final decision will be at the discretion of the Taipei Times.