Next Gen Finals deliver promised drama
The Next Gen ATP Finals on Monday delivered all the promised drama even before a ball was hit, with organizers issuing grovelling apologizes after a draw ceremony criticized as "sexist."
The inaugural under-21 version of the ATP World Tour Finals started yesterday in Milan, Italy, bringing together emerging stars tipped to rival Rafael Nadal, Andy Murray, Novak Djokovic and Roger Federer, but a social media storm was whipped up after the draw ceremony when the players had to choose female models who had the letter "A" or "B" hidden on their bodies, to determine the round-robin group in which they would play.
South Korean player Chung Hye-on looked visibly embarrassed as he was asked to pull off a female model's glove with his teeth during an evening designed as a tribute to Milan's famous links with the fashion industry.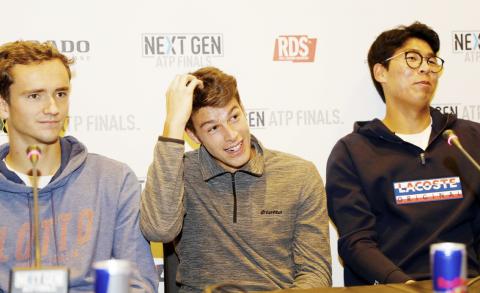 From left, Daniil Medvedev of Russia, Gianluigi Quinzi of Italy and Chung Hye-on of South Korea attend a news conference in Milan, Italy, on Monday.
Photo: AP
ATP executive president Chris Kermode apologized, describing the ceremony as "unacceptable, personally disrespectful and [that it] won't happen again."
"It's unfair and unreasonable we put these guys out there. It wasn't their choice, it's in no way to do with any of the players here tonight," he added after the eight players were questioned about the draw.
"Disgrace," former women's world No. 1 Amelie Mauresmo wrote on her Twitter account, while Judy Murray, mother of former men's world No. 1 Andy Murray, tweeted "awful."
Kermode said that he hoped the focus would be on the planned innovations which are to be tested during the five-day tournament, including shorter sets, no-advantage scoring, a no-let rule and electronic line calls.
"I've receive a huge amount of mixed response. We're not trying to 'mess with the game of tennis,' but to try things that in five to 10 years we might eventually integrate into the sport," he said. "We want while the sport is in the best place it has ever been to try to look towards innovating for the future. These guys are the future and they're going to be here for a long time."
The highest-ranked player in Milan is Russian Andrey Rublev, ranked 37th. The 20-year-old is one of three Russians in the field along with world No. 45 Karen Khachanov and world No. 65 Daniil Medvedev.
Canadian Denis Shapovalov (51), Jared Donaldson of the US (55), Croatia's Borna Coric (48), South Korea's Chung (54) and Italian qualifier Gianluigi Quinzi (306) complete the lineup.
Comments will be moderated. Keep comments relevant to the article. Remarks containing abusive and obscene language, personal attacks of any kind or promotion will be removed and the user banned. Final decision will be at the discretion of the Taipei Times.