Irving takes charge, Celtics win
NINTH STRAIGHT WIN: Kyrie Irving either scored or assisted on every basket of a 16-2 run in the third quarter that put the Celtics up by seven points
Kyrie Irving took charge in a fashion only he can.
Dribbling and weaving through the lane and around the perimeter, Irving on Monday scored from all over and kept his teammates involved all night.
"It's a beautiful game when it's played the right way," the four-time All-Star said. "It's not going to look good every possession, but you've got to be able to move onto the next play. I understand that better than most."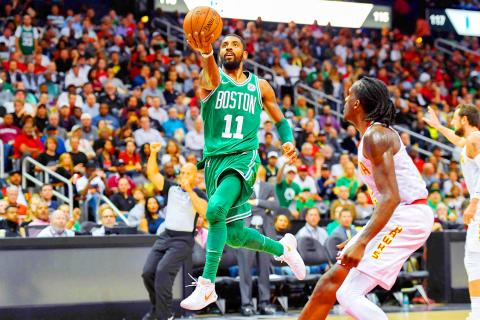 Boston Celtics guard Kyrie Irving, left, goes to the basket against the Atlanta Hawks in their NBA game at Philips Arena in Atlanta, Georgia, on Monday.
Photo: Dale Zanine-USA Today
Irving scored 35 points and Jayson Tatum added 21 as the Boston Celtics held off the Atlanta Hawks 110-107 for their ninth straight victory.
Irving's three-pointer from the right wing put the Celtics up 104-103 — the game's 25th lead change — with 1 minute, 37 seconds remaining and Boston led the rest of the way.
Dennis Schroder had 23 points for the rebuilding Hawks, who dropped to 2-9 a night after a surprising two-point win in Cleveland, Ohio.
"It would've been sweet to win two in a row against those kinds of teams, but we ended up short," Schroder said.
Boston improved to 9-2 and have their longest winning streak in seven years.
Al Horford had 15 points, 10 rebounds and nine assists in his best game against the Hawks.
Horford spent his first nine seasons in Atlanta before leaving as a free agent, and had totals of 20 points and 17 rebounds in three games against his former team.
Irving had his first 30-point game as a Celtic on a night packed with highlights.
He dribbled between his legs and behind his back before hitting a floater off the glass from the left baseline to put Boston up 46-44.
He had two impressive assists late in the third with long, one-handed passes that led to three-pointers by Marcus Smart and Tatum, the latter giving Boston a 72-71 lead.
Irving either scored or assisted on every basket of a 16-2 run in the third quarter that put the Celtics up by seven. He finished with seven assists.
"He's just very unique," Horford said. "He has a good sense of how teams are playing him."
The Celtics started to pull away and took their biggest lead at 10 on Semi Ojeleye's three-pointer early in the fourth quarter, but the Hawks came back to take a few brief leads in the final period.
"To compete the way we did and give ourselves a chance to win, we got better tonight and we can learn from it," Atlanta coach Mike Budenhozler said.
Comments will be moderated. Keep comments relevant to the article. Remarks containing abusive and obscene language, personal attacks of any kind or promotion will be removed and the user banned. Final decision will be at the discretion of the Taipei Times.