Kershaw leads Dodgers to steamy win
STICKING WITH IT: Over seven innings in what could be record heat for the Series, the pitching ace only gave up three hits to hand the Dodgers a 3-1 victory
No sweat, Clayton Kershaw.
Changing jerseys to beat the 39°C heat, the Dodgers ace with a checkered playoff history delivered a signature performance, pitching Los Angeles past the Houston Astros 3-1 on Tuesday night in the World Series opener.
Boosted by Justin Turner's tiebreaking, two-run homer in the sixth inning off Dallas Keuchel, Kershaw was in complete control against the highest-scoring team in the majors this season.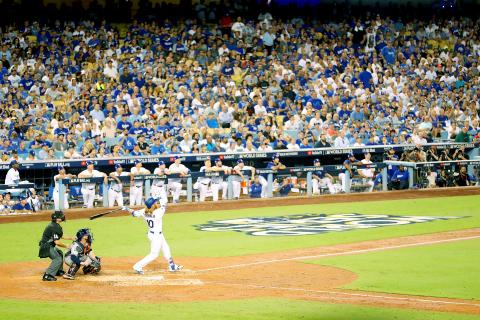 Justin Turner of the Los Angeles Dodgers hits a two-run home run during the sixth inning in Game 1 of the World Series in Los Angeles, California, on Tuesday.
Photo: AFP
"Definitely feels good to say it was the World Series, and it feels good to say we're 1-0," Kershaw said.
The three-time Cy Young Award winner struck out 11, gave up just three hits and walked none over seven innings, featuring a sharp breaking ball that often left Houston batters taking awkward swings.
His lone blemish was a home run by Alex Bregman in the fourth that made it 1-1.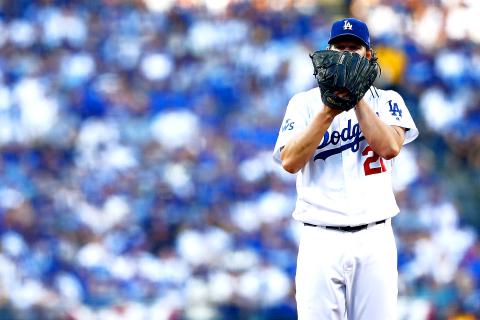 Clayton Kershaw of the Los Angeles Dodgers stands on the pitcher's mound during the first inning of Game 1 of the World Series on Tuesday in Los Angeles.
Photo: AFP
"He was as good as advertised," Keuchel said.
A sweltering, pulsating crowd at Dodger Stadium dotted with Hollywood A-listers was filled with Kershaw jerseys and he drew loud cheers all evening.
Kershaw got one more ovation when he walked through a corridor to a post-game interview. There, fans applauded a final time.
"I felt good. It's a tough lineup over there," Kershaw said. "The way Keuchel was throwing it was up and down a lot, which was good. It got us into a rhythm a little bit. I think for me personally, it helped out a lot."
Brandon Morrow worked a perfect eighth and Kenley Jansen breezed through in the ninth for a save in a combined three-hitter. The Dodgers' dominant relievers have tossed 25 straight scoreless innings this post-season.
With both aces throwing well, the opener zipped by in two hours, 28 minutes — fastest in the World Series since Game 4 in 1992 between Toronto and Atlanta, which took 2 hours, 21 minutes.
It certainly was unusual for this post-season, when nine-inning games had been averaging 3 hours, 32 minutes — up 18 minutes from two years ago.
Chris Taylor gave the Dodgers an immediate jolt in their first Series game since 1988 when he hit a no-doubt home run on Keuchel's very first pitch.
"Just getting that momentum early is huge," Kershaw said. "And let the crowd kind of feed off that. It was definitely as good a start as we could have hoped for."
The loss left the Astros still without a single World Series win in their 56-season history. In their only other Series appearance, they were swept by the White Sox in 2005.
Game 2 was yesterday, with American League Championship Series MVP Justin Verlander starting against Dodgers lefty Rich Hill.
"I don't know if you can decipher between a post-season start and a World Series start. The adrenaline, I feel like every game is so much more magnified," Kershaw said.
The sticky conditions did not seem to affect either side.
Kershaw, as always, wore his bright blue Dodgers jacket walking to the bullpen to get ready.
There is no reliable record for the hottest temperature at a World Series game, but weather data indicates this might have been the steamiest ever.
Comments will be moderated. Keep comments relevant to the article. Remarks containing abusive and obscene language, personal attacks of any kind or promotion will be removed and the user banned. Final decision will be at the discretion of the Taipei Times.