Astros force ALCS Game 7 with win
NEVER GIVE UP: New York's Aaron Judge said that the Yankees would continue to fight, just as they did earlier in the post-season for a 4-0 record in elimination games
Justin Verlander remained perfect for the Houston Astros when they could not afford anything else.
The ace right-hander on Friday night pitched seven shutout innings, while Jose Altuve homered and drove in three runs during a 7-1 victory over the New York Yankees that extended the American League Championship Series (ALCS) to a decisive Game 7.
"He's been everything that we could have hoped for and more," Astros manager A.J. Hinch said of Verlander. "He chose to come here for games like this and beyond."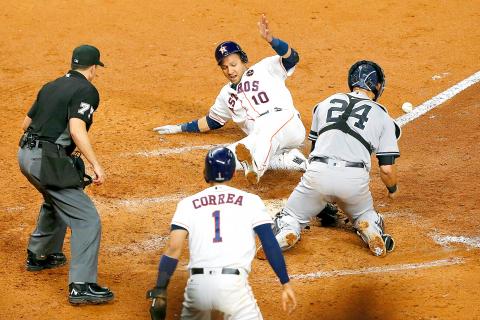 The Houston Astros' Yuli Gurriel, second right, slides home safe in the eighth inning of Game 6 of the American League Championship Series against the New York Yankees at Minute Maid Park in Houston, Texas, on Friday.
Photo: AFP
Acquired in an Aug. 31 trade, Verlander has won all nine of his outings for the Astros — including three starts and his first career relief appearance during the post-season.
With his new club facing playoff elimination for the first time in Game 6 against the Yankees, he delivered again to tie the series 3-3.
"There's no point in saving anything," Verlander said, acknowledging that the final two innings took a lot out of him.
The winners of Game 7 last night advance to the World Series against National League champions the Los Angeles Dodgers.
"It's going to be a crazy night," Altuve said. "I know both teams are going to go out there and leave everything they have."
C.C. Sabathia was scheduled to start for New York against Charlie Morton in a rematch of Game 3, won 8-1 by the Yankees.
The home team has taken every game in the series.
"We've been in this situation throughout the year," New York rookie slugger Aaron Judge said. "We've gone down in series. We've gone down in games. We've always fought back. That's what we're going to continue to do."
George Springer helped 34-year-old Verlander out of a jam in the seventh, leaping to make a catch at the center-field wall that robbed Todd Frazier of extra bases with two on and the Astros up 3-0.
"I thought homer," Verlander said. "That was obviously one of the big turning moments in the game."
When it was over, Verlander had improved to 4-1 with a 1.21 ERA in five career post-season elimination games. He ran his scoreless streak in such games to 24 innings.
"We hope we all get to see him pitch again," Hinch said.
After striking out 13 for a victory in Game 2, Verlander threw another gem. The 2011 American League Most Valuable Player and Cy Young Award winner scattered five hits and struck out eight to improve to 9-0 with a 1.23 ERA and 67 strikeouts since agreeing to a trade from Detroit that was completed only seconds before the midnight deadline for post-season eligibility.
For the Astros, it was just in time.
"I literally love Justin Verlander," Altuve said. "The way he goes out there makes me feel like I have to go out there and play the same way he's doing it."
Brian McCann's RBI ground-rule double in the fifth ended a zero-for-20 slump before Altuve snapped a zero-for-12 skid with a two-run single later in the inning.
Altuve hit his fourth homer of the post-season when he connected on a solo shot off David Robertson in the eighth.
"I love the way we played today," Altuve said.
Houston improved to 5-0 at home this post-season after dropping three straight in New York as the Astros chase their second trip to the World Series since 2005.
The previous Game 7 for the Yankees was also a loss in 2004, when they capped an unprecedented collapse against rivals Boston after leading 3-0 in the ALCS.
This year, the Yankees are 4-0 in post-season elimination games as they try to reach the World Series for the first time since 2009. However, New York are 1-5 on the road in these playoffs.
"I think you have to keep tonight's game in perspective," manager Joe Girardi said. "We still have a shot to do what we want to try to do tomorrow, and put tonight behind you, move on, and let's be ready to go tomorrow."
Comments will be moderated. Keep comments relevant to the article. Remarks containing abusive and obscene language, personal attacks of any kind or promotion will be removed and the user banned. Final decision will be at the discretion of the Taipei Times.