Yankees crush Astros in ALCS Game 3
'SMOKE AND MIRRORS': C.C. Sabathia pitched shutout ball for the first time in 21 post-season starts, relying on the sharp, slow slider that has helped to revive his career
Back in the Bronx, the big guys delivered.
Greeted by an array of "All Rise" signs in a ballpark that fits their style, Aaron Judge on Monday night hit a three-run homer and made a pair of sparkling catches to lead C.C. Sabathia and the New York Yankees over the Houston Astros 8-1, cutting their deficit to 2-1 in the American League Championship Series (ALCS).
Todd Frazier hit a go-ahead, three-run homer into the short porch in right field in the second inning against Charlie Morton.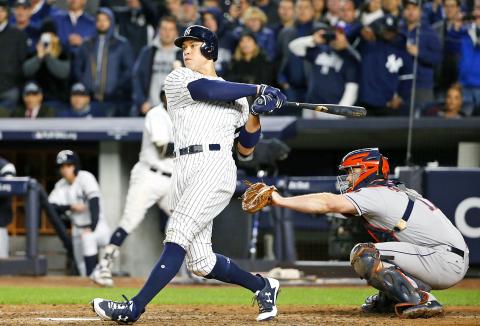 The New York Yankees' Aaron Judge hits a three-run home run in the fourth inning of Game 3 of the American League Championship Series against the Houston Astros in New York on Monday.
Photo: AP
Judge entered in a four-for-31 (.129) post-season slump that included one home run, four RBIs and 19 strikeouts. The slugger capped a five-run fourth with a laser of a drive to left field off Will Harris and robbed Yuli Gurriel and Cameron Maybin of extra-base hits.
"You see a guy put his head basically through the wall and then dive," Frazier said. "The ground is going to shake when he hits the ground."
Sabathia allowed three hits over six scoreless innings for his first post-season win in five years. The Yankees stopped a seven-game ALCS losing streak dating to Sabathia's victory over Texas in 2010 — when Judge had just started his freshman year at California State University, Fresno.
After a pair of 2-1 losses in Houston, Texas, the Yankees led 8-0 after four innings.
"Just the energy, the fans," Sabathia said. "We can kind of feed off their energy."
New York improved to 4-0 at home this post-season. The Yankees were an AL-best 51-30 at home this season.
"We're somewhat built for this ballpark," manager Joe Girardi said.
Houston scored on a bases-loaded walk in the ninth before post-season star Jose Altuve grounded into a game-ending double play with the bases loaded.
Frazier got the Yankees rolling, taking an awkward hack at a low, outside fastball and slicing an opposite-field drive over the right-field scoreboard.
"You don't think it's going, just because how unorthodox the swing was," Frazier said.
Judge used his height and long left arm to make a leaping catch, with his left shoulder slamming into the right-field wall, against Gurriel starting the fourth.
Being a rookie, he politely waited outside the dugout for all the veterans to descend the steps after the third out — as he always does — then capped a five-run bottom half with a laser of a line drive that just cleared the left-field wall.
Then in the fifth he sprinted into short right for a diving backhand catch on Maybin.
On the first chilly night of the autumn with a game-time temperature of 13.9°C, Sabathia relied on the sharp, slow slider that has helped revive the former flamethrower's career.
Pitching with caution to Houston's dangerous lineup, he walked four, struck out five and pitched shutout ball for the first time in 21 career post-season starts.
During the regular season, he was 9-0 in 10 starts following Yankees' losses.
"It's weird, me being 37, smoke and mirrors, getting a shutout," Sabathia said.
Adam Warren followed with two hitless innings, Dellin Betances walked his only two batters and Tommy Kahnle finished.
Houston had four hits, leaving them with just 15 over the first three games, and are batting .169 in the matchup.
Morton was chased after 3-2/3 innings and allowed seven runs and six hits: three infield singles, a bloop single to center, a double that Maybin allowed to fall in left and Frazier's homer.
"If you were to show me a video of the swing, show the pitch speed and the location, I would have never thought that," Morton said. "That was unbelievable."
Comments will be moderated. Keep comments relevant to the article. Remarks containing abusive and obscene language, personal attacks of any kind or promotion will be removed and the user banned. Final decision will be at the discretion of the Taipei Times.