Aussie Walker scores in historic debut for Caps
Nathan Walker on Saturday made history as the first Australian to play in the NHL, and scoring a goal to boot in the Washington Capitals' 6-1 demolition of the Montreal Canadiens.
On a night when celebrated Russian teammate Alex Ovechkin notched his second hat trick in as many games, the 23-year-old Walker netted the Capitals' sixth goal of the night.
The goal was originally credited to Devante Smith-Pelly before officials reviewed it and awarded it to Walker.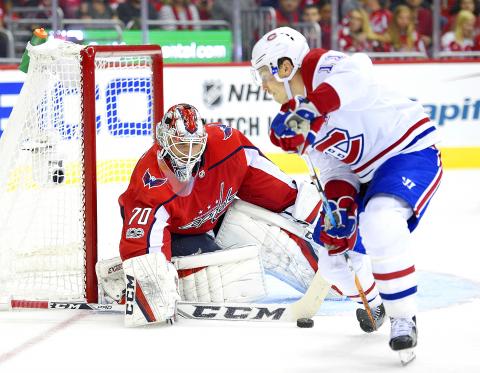 Washington Capitals goalie Braden Holtby stops a shot by Montreal Canadiens right wing Brendan Gallagher during the second period on Saturday in Washington.
Photo: AP
"At first, I wasn't sure if it was a stick or the puck," Walker said of feeling the puck that deflected off his left leg.
Smith-Pelly, who realized the shot deflected off of Walker, asked for the puck as a memento for the Aussie.
When the scoring change was announced, Walker's mother Ceri frantically waved an Australian flag as Ovechkin skated over to the bench to tap Walker's helmet.
"It's incredible," Walker said. "A really special moment."
Walker's youthful ice hockey dreams were fueled by movies such as The Mighty Ducks and Mystery, Alaska.
He left Australia to hone his hockey skills in the Czech Republic and in 2014, became the first Australian drafted by an NHL team.
Since then, he had been playing for the Capitals' minor league affiliate in Hershey, Pennsylvania.
The Capitals celebrated his NHL debut with a video featuring congratulatory snippets from fellow Australians who have broken into US pro sports leagues.
NBA players Andrew Bogut, Matthew Dellavedova, Thon Maker and Aron Baynes were featured, along with NFL players Adam Gotsis and Sav Rocca.
Fellow sportsmen were not the only Aussies watching.
"First Aussie, first game, first goal. What a night for @NathanWalks10 Congratulations mate!" Australia's Ambassador to the US Joe Hockey said on Twitter.
Meanwhile, Ovechkin became just the fourth NHL player to have a hat-trick in each of his team's first two games of a season and the first since 1917 — when three players did it.
After scoring three goals in the third period of Thursday's season opener, Ovechkin scored three times in the first period against Montreal. Hats rained onto the ice when he made it 4-0 with 1 minute 50 seconds left in the period.
Ovechkin, who started the scoring just 20 seconds in, picked up his 19th career hat-trick to tie him with Peter Bondra for the Capitals' all-time club lead.
He capped his fourth career four-goal game late in the second period when the rebound of his shot deflected off a Montreal player's stick into the net.
Ovechkin made it 1-0 on an acrobatic goal when he sped to a loose puck in the Montreal zone, spun and fired high over goaltender Corey Price's shoulder.
T.J. Oshie put home the rebound of a Nicklas Backstrom shot 26 seconds later and Ovechkin capped the early barrage with a power-play goal from the left circle at the 2 minute 51 second mark.
Ovechkin complete the hat-trick when he deflected Evgeny Kuznetsov's shot past Price.
After scoring just 16 even-strength goals last season, Ovechkin already has six.
Comments will be moderated. Keep comments relevant to the article. Remarks containing abusive and obscene language, personal attacks of any kind or promotion will be removed and the user banned. Final decision will be at the discretion of the Taipei Times.