Tunisian ultra-marathon draws dozens to desert
Dozens of competitors on Saturday made their way into the Tunisian desert at dawn for the North African nation's first ever ultra-marathon.
The 100km Ultra Mirage El Djerid race, with a course skirting the Sahara Desert's biggest salt lake, attracted 58 competitors, including eight women and 25 foreign runners.
Morocco's Mohamed el Morabity battled his way over dunes, rocky hills and a salt plain to win the race in 8 hours, 48 minutes and 49 seconds.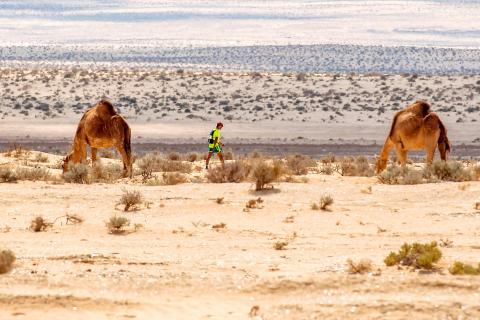 A competitor walks between two camels during the Ultra Mirage El Djerid marathon in the desert near Tozeur, Tunisia, on Saturday.
Photo: AFP
He and his brother Rachid both competed this year at the Marathon des Sables, a famed endurance event in the Moroccan desert that inspired the Tunisian event.
The race took place in Tozeur, a southwestern region that served as a set for Anakin Skywalker's village Mos Espa in the Star Wars films.
"I think there is a real lack of this type of sporting event in the desert," race director Amir Ben-Gacem said.
Organizers hope to make the event an annual fixture on the international ultra-trail circuit, attracting 500 runners annually within three years.
"Tunisia is extremely well placed to hold this kind of event," Ben-Gacem said. "We have the beauty of southern Tunisia and we have all the infrastructure to do it."
Comments will be moderated. Keep comments relevant to the article. Remarks containing abusive and obscene language, personal attacks of any kind or promotion will be removed and the user banned. Final decision will be at the discretion of the Taipei Times.