Maria Sharapova reflects on rivalry with Williams
Maria Sharapova muses on her long, lopsided rivalry with Serena Williams in a new autobiography released on Tuesday and how she believes a locker-room moment fueled the US player's drive to dominate her.
The Russian-born Sharapova was 17 when she defeated Williams in the 2004 Wimbledon final.
Rather than proving the start of a long, close-run rivalry, it was one of just two victories Sharapova can claim against the US great, who has beaten her 19 times.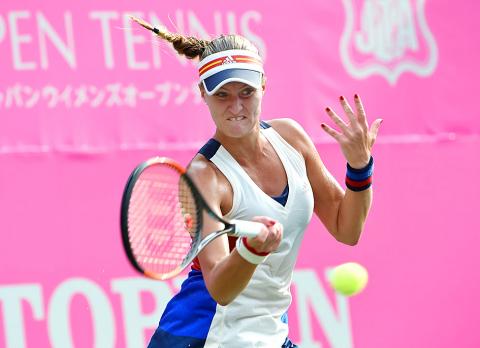 Kristina Mladenovic returns to Jena Fett during their first-round match at the Japan Women's Open in Tokyo yesterday. Mladenovic won 6-4, 6-3.
Photo: AFP
In her new book, Unstoppable: My Life So Far, Sharapova says it was not only her victory, but the fact that she overheard Williams weeping afterward in the locker room that ensured the American would always find a way to elevate her game in their future contests.
"Guttural sobs, the sort that make you heave for air, the sort that scares you," Sharapova writes of the moment, according to excerpts released by the New York Times.
"It went on and on. I got out as quickly as I could, but she knew I was there. People often wonder why I have had so much trouble beating Serena; she's owned me in the past 10 years," she wrote. "I think Serena hated me for being the skinny kid who beat her, against all odds, at Wimbledon."
In the memoir published by Sarah Crichton Books, an imprint of Farrar, Straus and Giroux, Sharapova details her tennis career from the time of her move to Florida at the age of six.
Williams caught her attention early on.
Sharapova recalls surreptitiously watching Serena and her sister Venus play during a visit to the Florida academy where she trained — unwilling even then to "put myself in the position of worshiping them, looking up, being a fan."
Tensions between Sharapova, a five-time Grand Slam champion who returned to competition in April after a 15-month doping ban, and 23-time Grand Slam champion Williams — who gave birth to a daughter this month — have sometimes spilled over into public spats.
Sharapova ponders the reasons, wondering if the antagonism between them has perhaps driven each to excellence.
"Maybe that's better than being friends," she writes. "Someday, when all this is in our past, maybe we'll become friends. Or not. You never can tell."
JAPAN OPEN
Staff writer, with Reuters
Japan's Miyu Kato defeated fourth seed Kristyna Pliskova of the Czech Republic 7-5, 6-3 to advance to the quarter-finals of the Japan Open yesterday.
Others to advance to the quarters in Tokyo were Aleksandra Krunic of Serbia, who beat Alison Riske of the US 6-3, 6-4, and Belgium's Elise Mertens, who beat Magda Linette of Poland 6-1, 7-5.
Comments will be moderated. Keep comments relevant to the article. Remarks containing abusive and obscene language, personal attacks of any kind or promotion will be removed and the user banned. Final decision will be at the discretion of the Taipei Times.