Indians eye 101-year-old record
As they climb toward baseball history with every win, the streaking Cleveland Indians are chasing a hallowed, 101-year-old record that includes an asterisk.
A major-league asterisk.
The 26-game winning string by the 1916 New York Giants includes a tie.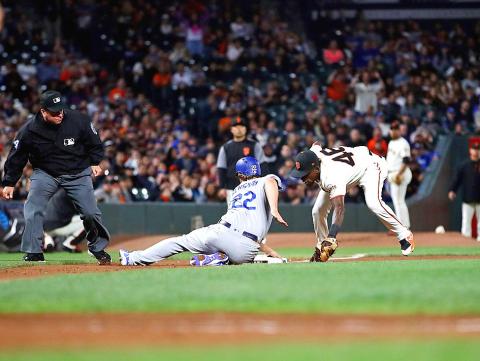 The Los Angeles Dodgers' Clayton Kershaw, center, slides past Orlando Calixte of the San Francisco Giants to reach third base at AT&T Park in San Francisco on Tuesday.
Photo: AFP
"I think I knew that," Indians closer Cody Allen said.
Not everyone is aware of the peculiarity.
As the Indians, who on Tuesday night became the fourth team since 1900 to win 20 straight, have moved into position to threaten the Giants' revered mark, questions have arisen as to why a team who won 12 consecutive games, played a tie and then ripped off 14 more wins in a row would have the record.
It's simple. It's complicated. It's baseball.
"A tie was never an acceptable result of a baseball game," said Steve Hirdt, executive vice president at the Elias Sports Bureau, Major League Baseball's official record keeper. "If one happened because of darkness or rain or some certain circumstance, the game was played over."
"Sports fans are used to the nuance in hockey and football of the difference between a winning streak and an unbeaten streak, or consecutive games streak without a loss," he said. "Baseball has never had those two different records. They would replay the game until a legitimate won or loss result was achieved."
The 1916 Giants, 1935 Chicago Cubs (21), 2002 Oakland Athletics (20) and this year's Indians are the only teams in the modern era to post winning streaks of at least 20 games.
Cleveland joined the exclusive club when ace and Cy Young Award cofavorite Corey Kluber tossed a four-hitter in a 2-0 win over the Detroit Tigers.
Now that they are at 20, the Indians have five more home games to pull closer to a record — albeit with its slight abnormality — that has endured.
Perhaps because of confusion over the tie, New York's 26-game streak has been absent from lists on some baseball Web sites and elsewhere.
The omission could be because some databases only recognize wins and losses and when the Giants' 1916 season is calculated, there is an interruption in a streak that is widely known to hardcore baseball fans as the one to beat.
"The Giants' 26-game winning streak has existed since the beginning of time," Hirdt said. "I do not know why certain people are looking at the 21 now and holding that up as the record or alternately trying to parse language so that they can somehow exclude the 26."
"It's the longest winning streak, it's the record for most consecutive wins, etc, because a tie game breaks neither a winning streak or losing streak for a team, because it always gets replayed unless the season ends first," he said
Elsewhere, the Los Angeles Dodgers snapped an 11-game skid, clinching a playoff berth with a 5-3 victory over the San Francisco Giants.
Dodgers starting pitcher Clayton Kershaw allowed eight hits in six innings, but limited the Giants to two runs in a win that could not come soon enough for the Dodgers.
They were feted less than a month ago as possibly one of the best teams in Major League history — their 91 wins with a month left in the regular season matching their entire total from last year.
However, on Aug. 26, a shut-out loss to the Milwaukee Brewers marked the start of a downward spiral of 16 defeats in 17 games.
Their 11 defeats on the trot marked their worst losing streak in 25 years.
A four-run fourth inning for Los Angeles started with Chase Utley's home run into McCovey Cove. Kershaw's line drive to left center eluded Giants left fielder Austin Slater and the Dodgers hurler was credited with a double.
He scored on Corey Seager's sacrifice fly and Yasiel Puig's double scored two more runs in the inning to take a 4-1 lead.
Kelby Tomlinson had homered off Kershaw in the third inning, and the Giants added one run in the sixth inning and one in the seventh to trim the deficit to 4-3 before Justin Turner doubled home Chris Taylor to give the Dodgers an insurance run in the eighth.
Additional reporting by AFP
In other games on Tuesday, it was:
‧ Brewers 5, Pirates 2
‧ Red Sox 11, Athletics 1
‧ Braves 8, Nationals 0
‧ Blue Jays 3, Orioles 2
‧ Rays 2, Yankees 1
‧ Royals 4, White Sox 3
‧ Astros 1, Angels 0
‧ Phillies 9, Marlins 8, 15 inn
‧ Twins 16, Padres 0
‧ Mariners 10, Rangers 3
‧ Cardinals 13, Reds 4
‧ Cubs 8, Mets 3
‧ Rockies 4, Diamondbacks 2
Comments will be moderated. Keep comments relevant to the article. Remarks containing abusive and obscene language, personal attacks of any kind or promotion will be removed and the user banned. Final decision will be at the discretion of the Taipei Times.