Morikawa, Xiong drive US to Walker Cup lead
The first day of the Walker Cup started brilliantly for the US.
It ended the same way, thanks largely to two Southern Californians.
Collin Morikawa and Norman Xiong teamed up on Saturday for a record-setting victory in the morning foursomes and then won their afternoon singles matches to help the US take an 8-4 lead over defending champion Britain and Ireland at the Los Angeles Country Club's North Course.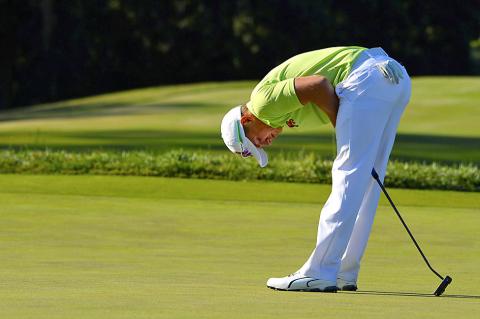 The Great Britain and Ireland team's Scott Gregory reacts after missing a putt on the 14th hole on Saturday during the Walker Cup at the Los Angeles Country Club in California.
Photo: AFP
Morikawa and Xiong beat Harry Ellis and Alfie Plant 8 and 7 in the alternate-shot morning match, the largest margin for an 18-hole match at the biennial amateur tournament that started in 1922. Plant was the low amateur at the British Open and Ellis won the 2017 British Amateur.
Xiong and Morikawa opened with four birdies and won the first five holes.
Morikawa plays at California and Xiong had a big freshman year at Oregon.
US coach Spider Miller did not see any of Morikawa and Xiong's match because he stood on the first tee to shake the hand of every player from both teams as they began their matches.
However, he was getting hole-by-hole alerts on his phone.
"The only thing I can tell you about Collin and Norm is that I saw their lead 1 up, 2 up..." Miller said. "I'm watching the thing and it's just going, 'Ting, ting, ting.' I said, 'I'm not going out to mess that up. Those boys are doing fine without me.' They didn't see me at all this morning."
Xiong, at 18 the youngest player in the matches, then beat Connor Syme 2 and 1 after rallying from three holes down after six. College golf's top freshman last season, he won five of the last 11 holes.
Morikawa, who plays at California, beat Paul McBride 3 and 2.
Braden Thornberry, the 2017 NCAA individual champion from Mississippi, sealed his 2-up win over Harry Ellis, the this year's British amateur champion, with a remarkable 6-iron shot from 200 yards that stopped a foot from the hole.
"I was aiming about 10 feet left, so I pushed it a little bit, but we're not going to tell anybody that," Ellis said. "But it was fun and I'm just glad I could get the victory."
Thornberry sat out the foursomes and was fresh for the afternoon. He won four of the last five holes.
Miller said he was impressed with how the US team flipped several singles matches.
"I saw a lot of spirit, I saw a lot of tough guys, I saw a lot of guys that reached down and pulled something out and they flipped their matches," Miller said. "I'm so proud of them, each and every one of them. They came ready to play and they will be ready tomorrow. We're not getting ahead of ourselves, I can tell you that."
The US needs 13.5 points to regain the cup.
Britain and Ireland need 13 to keep the trophy.
Two years ago, Britain and Ireland won six of the eight foursomes matches at Royal Lytham & St Annes and rolled to a 16.5 to 9.5 victory, its biggest victory margin.
"I think the feeling in the camp is one of disappointment, really," Britain and Ireland coach Andrew Ingram said. "Although we are disappointed, we still think we can win. We seriously do. The feeling is strong in the camp."
The US' Maverick McNealy and Doug Ghim also teamed for a win in foursomes and then won their singles matches. They beat David Boote and Jack Davidson 5 and 4 in the morning.
Comments will be moderated. Keep comments relevant to the article. Remarks containing abusive and obscene language, personal attacks of any kind or promotion will be removed and the user banned. Final decision will be at the discretion of the Taipei Times.