The soccer prodigy rocketing skyward
Even in his early teens, it appears that Kylian Mbappe was intoxicated by the distant allure of playing at the highest level.
"It is better to target the moon. That way, if you fail, you get to the clouds," the bright boy from the Paris suburb of Bondy said in an early interview when asked about the prospect of one day playing at his favorite club, Real Madrid.
It has not taken long for this comet to soar.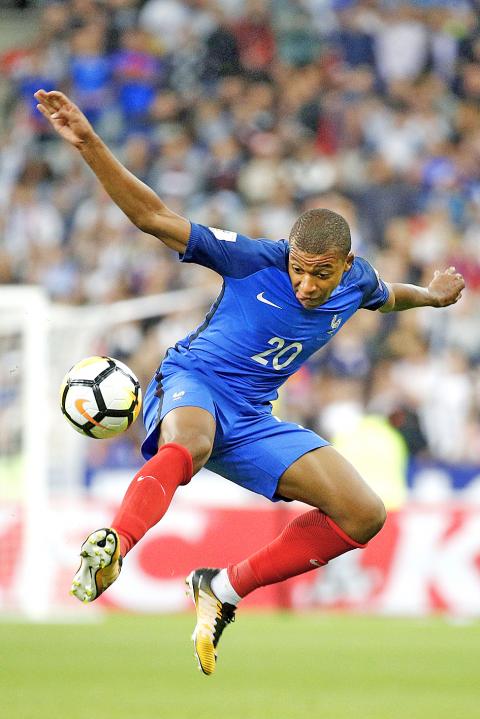 Kylian Mbappe leaps during the World Cup qualification match between France and the Netherlands on Thursday in Paris.
Photo: EPA
The only question, after teenager Mbappe signed on loan for Paris Saint-Germain (PSG) on Thursday, is whether he sees playing for the free-spending giants in Paris as his ultimate destination.
At just 18, Mbappe would become the world's second-most expensive soccer player if PSG exercise their option to make the transfer permanent at the end of the season.
Local media say PSG would have to pay Monaco up to 180 million euros (US$214.3 million) for the young diamond. Whatever the precise figure, it would only be exceeded by the 222 million euros PSG paid for Neymar last month.
It is a deal that feels slightly surprising in that Madrid and their manager, Zinedine Zidane, have followed Mbappe's talent so assiduously since he was 13 while the Real fan was growing up on a diet of Cristiano Ronaldo videos.
He could have signed for the Spanish giants back in 2013, Mbappe has said before, but decided to learn his art at Monaco, perhaps always believing Zidane would end up making him the focus of the sporting world.
However, PSG's extraordinary financial muscle under their Qatari owners completely shifted the goalposts for the youngster.
Now comes the tough bit. While he is unquestionably a startling talent, the pressure is on a relative novice who has enjoyed one full season in Ligue 1 to justify a potentially mind-boggling price tag.
The good news for Mbappe is that he will at least be able to do so in the shadow of Neymar.
Mbappe should thrive. Long, lean and more powerful by the season, he has frightening pace, skill and strength to instill inferiority complexes in the best defenders and keeps improving at a dramatic rate.
So how good is he?
Listen to Andrea Barzagli, a tough, streetwise Italian defender who along with the rest of Juventus' miserly back four, found Mbappe devilishly hard to handle for three hours in the Champions League semi-final.
"He is a devastating player," Barzagli said. "I've met some over the years, but at his age with that technique, physical strength, pace and above all his movement... I've not seen someone like him."
The inevitable reference point has been Thierry Henry, another supremely lithe and athletic French striker, but the World Cup winner shies away from comparisons.
"Mbappe has to become Mbappe and that's all," Henry told Canal Plus. "But my word, he is good! Ooh la la! I met him and he gave me the impression that he has a good head on his shoulders. I really like watching him play. He thinks."
It seems incredible to think that Mbappe made his first team debut at Monaco two-and-a-half years ago, but it was really only last season that he bloomed, scoring 26 goals in 44 matches.
Monaco's Croatian goalkeeper Danijel Subasic said during the season: "No wonder everyone is crazy about him. He runs like he's riding a motorbike. He has no respect, which is good, but at the same time in our locker room he is very calm, polite, never pushes himself into the front row."
"Believe me, you haven't seen everything from him. I see every day at training how good he is," he added.
Comments will be moderated. Keep comments relevant to the article. Remarks containing abusive and obscene language, personal attacks of any kind or promotion will be removed and the user banned. Final decision will be at the discretion of the Taipei Times.