Lochte back in the pool after serving ban for Rio tall tale
Ryan Lochte, the world and Olympic champion swimmer whose false story about being robbed at the Rio de Janeiro Olympics in Brazil brought a 10-month ban, returned to the pool on Saturday at the US Open meet.
Two days after his 33rd birthday, Lochte finished fifth in the men's 100m backstroke, clocking 55.16 seconds in a final won by two-time Olympic medalist Arkady Vyatchanin of Serbia in 53.91 seconds.
"It's a good starting point," said Lochte, who was to race yesterday in the 200m individual medley in the meet at Nassau County Aquatics Center in suburban New York.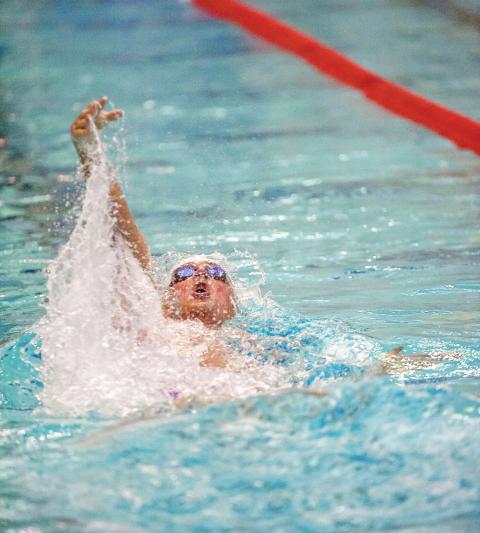 Ryan Lochte competes in the men's 100m backstroke on Saturday at the US Open in East Meadow, New York.
Photo: AP
"That's what I wanted to do coming into this meet. Doing that little of training and being able to go that time ... I've still got something there," Lochte said.
Lochte, who intends his comeback to propel him into the 2020 Tokyo Olympics, told USA Swimming that he is ready to battle back after a humiliating finish to his Brazil experience last year.
"Whatever happens, I'm going to take it with a grain of salt and keep moving forward," Lochte said in a video posted on the governing body Web site. "One of the biggest things I've learned throughout the past year is I'm a fighter. I will always get back up. And I'm back."
Lochte made headlines around the world — and deeply embarrassed organizers — when he claimed that he and three other US swimmers were robbed after a night of revelry during the Rio Games last year.
Brazilian police later determined, in part based on surveillance video, that Lochte had largely fabricated the story.
He was charged with making a false crime report, but a Rio appeals court threw that case out last month.
After the ban, Lochte competed on Dancing With the Stars and became a father, with son Caiden being born two months ago.
"I want to show him if you keep working at something, you can achieve anything," Lochte said. "That's why I got back into the pool. Every stroke I take, it's for him."
Lochte said he is a changed man from the one whose embarrassing tale led to false robbery claim charges a year ago.
Comments will be moderated. Keep comments relevant to the article. Remarks containing abusive and obscene language, personal attacks of any kind or promotion will be removed and the user banned. Final decision will be at the discretion of the Taipei Times.