US survives bites to defeat El Salvador 2-0
Skirmishing for position at the goal-line ahead of a corner-kick, Jozy Altidore could not believe what occurred: El Salvador defender Henry Romero bit the back of his left shoulder, then twisted his nipple.
Altidore maintained his composure — just — and then made light of the incident.
"My girl's mad at me," he said. "She's mad at Romero, because she's like: 'Only I can bite you, only I can grab your nipples.'"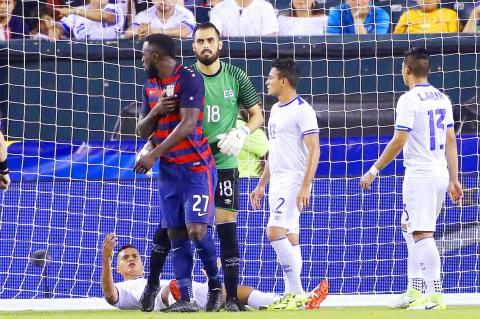 El Salvador's goalkeeper Derby Carrillo, center, holds the US' Jozy Altidore, left, as he reacts to being apparently bitten by El Salvador's Henry Romero, lying on the ground, during their Gold Cup match in Philadelphia on Wednesday.
Photo: AP
Amid the biting, twisting and talking, the US advanced to a CONCACAF Gold Cup semi-final against Costa Rica with a 2-0 win on goals by Omar Gonzalez in the 41st minute and Eric Lichaj in first-half stoppage-time.
However, the ugly match, interrupted by 45 fouls, is to be remembered for the mark on Altidore's shoulder left by the teeth of the 25-year-old defender.
Gonzalez also said after the game he was bitten on the back of his left shoulder by Darwin Cerin in the 81st minute.
A furious Altidore shoved Romero, then grimaced and fell to the ground, but remained in the game.
"It's never happened before, but in CONCACAF, it never ceases to amaze me," Altidore said. "You got to keep your cool... I shouldn't be saying these things happen, but they do."
Canadian referee Drew Fischer did not penalize the incident, which occurred in the 57th minute.
The CONCACAF disciplinary committee has leeway to impose punishment.
"These things always happen in football," El Salvador coach Eduardo Lara said through a translator, although it was unclear he knew bites had occurred.
The US, who started five veterans added for the tournament's knockout phase, overcame a shaky defense and poor passing.
"Our timing wasn't good. We didn't deal well with the physicality. The game had no rhythm with all the fouls and players falling on the ground, but we weren't good on top of it." Arena said. "So it took us, really it took us 30 minutes to play a little bit, and then we got a little bit more assertive in different positions on the field and capitalized on a couple of their mistakes."
Arena changed all 11 starters for the second straight game and at 7-0-5 set a record for longest unbeaten streak at the start of a US coaching tenure, topping Bob Bradley's 10-0-1 in 2007.
In Wednesday's other quarter-final, Anibal Godoy headed David Guzman's free-kick into his own net in the 77th minute, giving Costa Rica a 1-0 victory over Panama and sending them to face the US tomorrow in Arlington, Texas.
Guzman took a long-range free-kick and the ball swerved slightly and went off the side of Godoy's head and past goalkeeper Jose Calderon for an own-goal.
Comments will be moderated. Keep comments relevant to the article. Remarks containing abusive and obscene language, personal attacks of any kind or promotion will be removed and the user banned. Final decision will be at the discretion of the Taipei Times.