Umpire hit in head by ball from stands
A ball apparently thrown from the stands at Miller Park on Friday struck first-base umpire Joe West in the back of the head, leading to a seven-minute delay during the Miami-Milwaukee game as security personnel tried to locate a culprit.
West was positioned behind the bag with one out and Milwaukee's Travis Shaw on first base in the fourth inning. West remained on his feet after the ball struck him and remained at his post when play resumed.
Marlins pitcher Brad Ziegler, who is on the disabled list with a back strain, tweeted: "I hope they file assault charges for whoever just hit Joe West with the baseball. Absolutely ridiculous."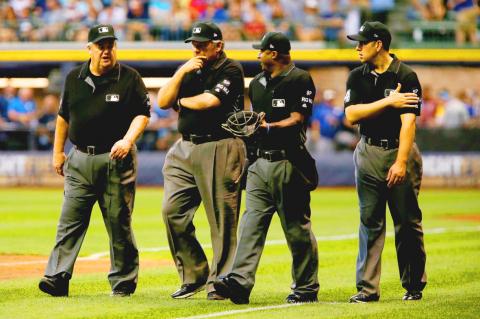 From left, umpires Joe West, Hunter Wendelstedt, Alan Porter and John Libka walk across the field during the game between the Brewers and the Marlins in Milwaukee, Wisconsin, on Friday.
Photo: AFP
The 64-year-old West, nicknamed "Cowboy" Joe, worked his 5,000th career regular-season game last week.
He is the third umpire to work at least 5,000 games.
Hall of Famer Bill Klem (5,375) and Bruce Froemming (5,163) are the others..
Comments will be moderated. Keep comments relevant to the article. Remarks containing abusive and obscene language, personal attacks of any kind or promotion will be removed and the user banned. Final decision will be at the discretion of the Taipei Times.