Umpire credited with saving life
John Tumpane cannot explain why he approached the woman as she hopped over the railing of the Roberto Clemente Bridge on Wednesday afternoon.
The woman told Tumpane she just wanted to get a better view of the Allegheny River below.
However, the look on her face and her voice suggested otherwise to Tumpane, a major-league umpire in town to work the series between the Pittsburgh Pirates and the Tampa Bay Rays.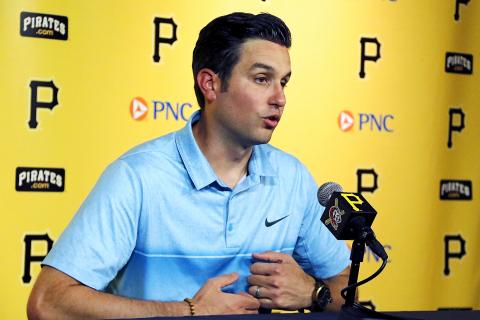 Major-league umpire John Tumpane speaks at a news conference in Pittsburgh, Pennsylvania, on Wednesday.
Photo: AP
So the 34-year-old Tumpane reached for the woman even as she urged him to let her go.
"It was just pure instinct," Tumpane said. "You hear kind of stories of this all the time, different scenarios, people aiding and situation where I was lucky enough to be there to help and try to think of everything I could do, hanging on to her. At times she wanted to go the other way. I was like: 'Not on my watch, please.' We were just hanging on."
Tumpane secured one of her arms and another person walked up and grabbed the other, while Mike Weinman, an employee of the Rays, clutched her legs and pinned them to the railing.
Tumpane mouthed to someone in the crowd to call emergency services.
What followed were chaotic moments of panic, fear and ultimately, grace.
"I couldn't tell you how long we were waiting for everyone else to get in place," Tumpane said. "Obviously another power comes into be when you're hanging on, and you know what the alternative is of you letting go and not having other people to help you."
Tumpane, Weinman and the third person clung to the woman until emergency responders arrived.
"Once they were able to secure her, we were able to talk her back to help us out and we got her back on this side," Tumpane said. "After that I went up to her, she said: 'You'll just forget me after this,' and I said: 'No, I'll never forget you.' This was an unbelievable day and I'm glad to say she can have another day with us."
Later, he was calling balls and strikes as the Pittsburgh Pirates defeated the Tampa Bay Rays 6-2.
Additional reporting by AFP
Comments will be moderated. Keep comments relevant to the article. Remarks containing abusive and obscene language, personal attacks of any kind or promotion will be removed and the user banned. Final decision will be at the discretion of the Taipei Times.