FIFA backs St Petersburg Stadium pitch for final
FIFA on Monday said that the relaid pitch at the St Petersburg Stadium had sustained damage, but was being treated before it hosts the final of the Confederations Cup on Sunday.
The 68,000-seat stadium, the home of Russian soccer powerhouse Zenit Saint Petersburg, is to be a flagship venue at the FIFA World Cup next year, but the pitch had to be hastily relaid after it was cut up during the inaugural match there in April.
Prior to the problems with the grass, issues with the stadium's retractable pitch technology also caused the playing surface to vibrate, rendering it unfit for matches.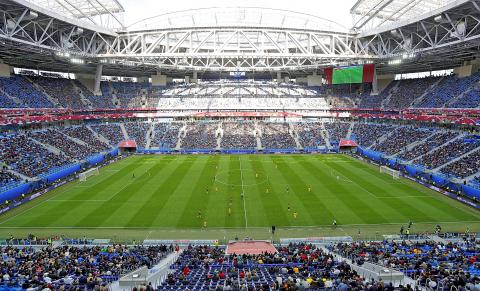 Spectators watch Cameroon and Australia play their Confederations Cup Group B match at the St Petersburg Stadium in Russia on Thursday last week.
Photo: AP
Colin Smith, director of competitions for global soccer body FIFA, told reporters that the stadium's "young pitch" had sustained damage from the matches, as well as from warm-up sessions.
"We did significant top dressing last night," Smith told reporters at a news conference in St Petersburg. "Tomorrow we will fully cover the pitch and really regulate the temperature and the growing conditions in there. We're confident that it will be a good playing surface for the final."
Smith said greenhouse structures had been installed over the pitch's weaker areas and grow lights have been permanently set up.
He said that rainy weather conditions had "not helped the growth of the problem areas" on the pitch.
Portugal captain Cristiano Ronaldo and coach Fernando Santos both criticized the pitch after their 4-0 win over New Zealand on Saturday, with Ronaldo telling Portuguese media the grass was too long.
Santos said the teams were prevented from training on it the day before the game.
Smith said the group stage of the Confederations Cup had been a great success on the operational level, but that there was room for improvement ahead of the knock-out stage, which sees Portugal face Chile in the first semi-final in Kazan today and Germany take on Mexico in Sochi tomorrow.
"Very importantly, these improvements will also serve as very valuable lessons looking ahead to next year's FIFA World Cup," Smith said.
Comments will be moderated. Keep comments relevant to the article. Remarks containing abusive and obscene language, personal attacks of any kind or promotion will be removed and the user banned. Final decision will be at the discretion of the Taipei Times.