Wild pitches abound as Dodgers win 10th straight
The Los Angeles Dodgers unleashed yet another weapon to continue their winning streak — the vaunted wild pitch.
The Dodgers on Sunday made some baseball history, albeit with a great assist from the Colorado Rockies, scoring a record five runs in the final two innings on four wild pitches by Adam Ottavino.
Add the almost requisite home-run production from rookie sensation Cody Bellinger — this time he had two — and the Dodgers had a 12-6 comeback win over the Rockies for their 10th consecutive victory.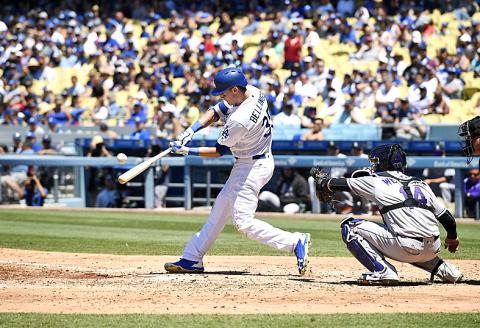 Cody Bellinger of the Los Angeles Dodgers, left, hits his 23rd home run of the season against the Colorado Rockies in their National League game at Dodger Stadium in Los Angeles, California, on Sunday.
Photo: AFP
"That was a long, crazy game," Dodgers manager Dave Roberts said.
The National League clash lasted 4 hours, 19 minutes, making it the longest nine-inning game since Dodger Stadium opened in 1962.
Incorporated were the seventh and eighth innings when they scored five consecutive runs on four wild pitches by Adam Ottavino (1-2).
According to the Elias Sport Bureau, the Dodgers were the first team in the live-ball era (since 1920) to score at least five runs on wild pitches.
"These games are played by human beings," Rockies manager Bud Black said. "Games like this happen. They're painful when you're on this end of it, but we've had our share where it's gone the other way."
The two teams combined to throw eight wild pitches, which according to STATS is the most in a single game since 1913.
Dodgers starter Brandon McCarthy threw three, one of them scoring a run.
Bellinger now has 24 home runs, helping the Dodgers stretch their longest streak since they won 10 straight in August 2013. Colorado lost their season-worst fifth in a row.
The Dodgers have hit at least one home run in 17 consecutive games, tying their record in Los Angeles. Their franchise record is 24 consecutive games set when they were the Brooklyn Dodgers in 1956.
Kenley Jansen got five outs for his 17th save, and his first career double and RBI to drive in the Dodgers' final run.
Jansen also walked his first batter of the season after striking out 51 in a dominant year.
"That was a good streak," Roberts said. "That was historical."
The Rockies could not stop their losing skid despite taking a 5-0 lead off McCarthy. The Dodgers came back for their 16th win in 17 games.
Bellinger now has six multi-homer games, a Dodgers' rookie record and second all-time to Mark McGwire's seven in 1987.
Comments will be moderated. Keep comments relevant to the article. Remarks containing abusive and obscene language, personal attacks of any kind or promotion will be removed and the user banned. Final decision will be at the discretion of the Taipei Times.