Qualifier stuns Murray at Queen's Club
PATIENCE PAYS: Jordan Thompson said that he was 'pretty nervous' after hearing he would be facing the Wimbledon champion, but he prepared as he usually does
Jordan Thompson savored the best moment of his life as the Australian underdog handed world No. 1 Andy Murray a humiliating first-round defeat at Queen's Club in London.
Thompson had never won an ATP Tour-level grass-court match before and the world No. 90 was not even in the tournament when he woke up on Tuesday morning.
However, 24 hours later Thompson was the talk of the tennis world after an astonishing 7-6 (7/4), 6-2 victory over Wimbledon champion Murray.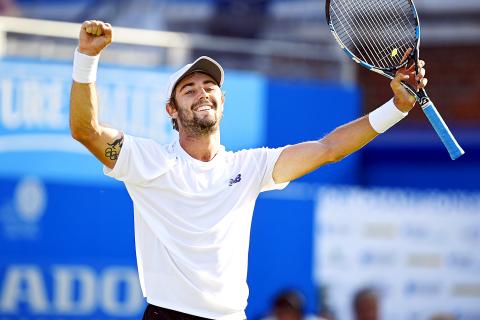 Jordan Thompson celebrates after beating Andy Murray at the Aegon Championships at the Queen's Club in London on Tuesday.
Photo: EPA
The 23-year-old thought his chance of playing a first Tour-level tournament this year had gone when he was beaten by France's Jeremy Chardy in the second round of Queen's qualifying on Sunday.
However, Thompson remained at the west London venue as an alternate in case any players pulled out and his patience was rewarded when Aljaz Bedene, Murray's scheduled opponent, withdrew with a wrist injury just hours before the match.
"I signed in for the Lucky Loser spot. There weren't too many matches yesterday, but I hung around. If someone was going to pull out, I was always going to be there," he said. "Then this morning, I just got my transport, planning on doing the same thing, signing in, waiting around. Pretty much when I got here, someone pulled out."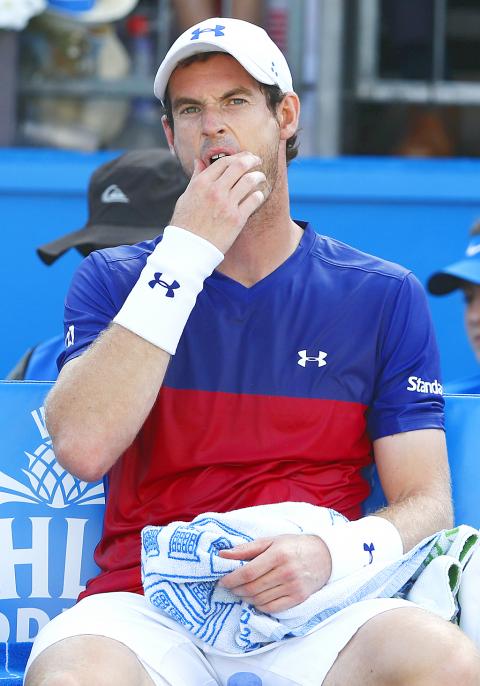 Andy Murray sits in a chair between games during his match against Jordan Thompson at Queen's Club in London on Tuesday.
Photo: AP
"When I heard I was playing Andy, I was pretty nervous," he said. "I just wanted to go out there and enjoy it. I just did everything as usual. I warmed up, had some food, and got ready to go out there."
Thompson seized his unexpected chance with an incredibly mature display, hitting 12 aces and saving all three break points against Murray, who had won 10 consecutive matches and the past two titles at Queen's.
Thompson is the first player to stop Murray breaking serve in a match since Roger Federer in 2015 and, after spending his career trying to eke out a living on the unglamorous second-tier Challenger circuit, it was hardly surprising he rated the win as the best of his career.
"I was pretty pumped. Beating the world No. 1 and a Grand Slam champion on grass at Queen's, it's definitely No. 1 for me," he said.
"I had a good serving day today. It's a grass court so it's quick. I hit a fair few aces and got a fair few serve winners and unreturnables," he said. "It was a good day at the office. He made a couple of loose errors he usually wouldn't make."
Comments will be moderated. Keep comments relevant to the article. Remarks containing abusive and obscene language, personal attacks of any kind or promotion will be removed and the user banned. Final decision will be at the discretion of the Taipei Times.