Maeda helps Dodgers to hold on and defeat Reds
Japanese pitcher Kenta Maeda on Sunday threw five strong innings and drove in two runs, while Logan Forsythe and Justin Tuner also homered, and Kike Hernandez made a spectacular game-saving catch as the Los Angeles Dodgers held on to beat the Cincinnati Reds 8-7.
Cincinnati nearly rallied all the way back from an 8-1 deficit in the sixth inning. However, Hernandez went back to the left-field wall and made an awkward leaping grab of Joey Votto's attempt at a go-ahead extra-base hit with runners on first and third in the eighth.
Maeda (5-3), in his first appearance since June 9 and his first start since June 4, allowed just three hits and one run in five innings to help the Dodgers complete a three-game sweep.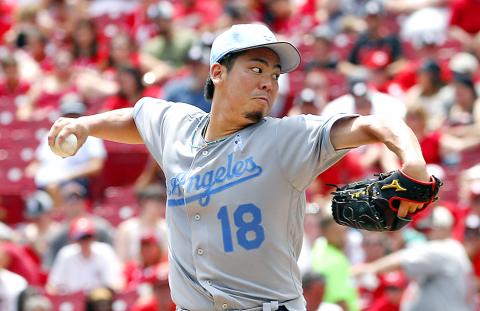 Kenta Maeda of the Los Angeles Dodgers pitches against the Cincinnati Reds in their National League game at Great American Ball Park in Cincinnati, Ohio, on Sunday.
Photo: David Kohl-USA Today
"The team wanted me to be aggressive and pound the zone, and that's what happened," Maeda said through an interpreter. "It took some time for me to start again, but I was able to get into a rhythm. I tried to stay aggressive and not change my plan with runners on base."
The Dodgers scored all of their runs with two outs, including Forsythe's two-run drive in the third inning and Turner's three-run shot in the sixth. Both of those shots reached the upper deck in left field and gave the Dodgers seven homers in the series.
Veteran Cincinnati pitcher Bronson Arroyo had his shortest outing of the season. It also might have been the last of his career. The 40-year-old right-hander was roughed up for five runs and seven hits in just three innings.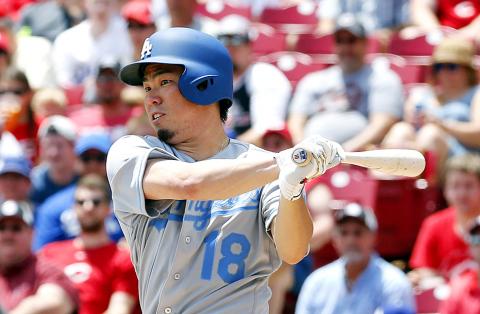 Los Angeles Dodgers starting pitcher Kenta Maeda hits a two-run double against the Cincinnati Reds in their National League game in Cincinnati, Ohio, on Sunday.
Photo: David Kohl-USA Today
Arroyo (3-6), attempting a comeback this season with his former team after missing two-and-a-half seasons with arm and shoulder problems, revealed after the game that he had been receiving cortisone shots in his shoulder since spring training.
"We tried to patch it up and it worked for a while, but I've been hit around the yard for a while now," said Arroyo, admitting that he has thought about possibly being near the end of a major league career that started back in 2000. "Have I thought: 'This time might be my last time on the field?' Yeah."
Arroyo, who gave up for nine runs and a career-high 13 hits in his previous start in San Diego, planned to meet with manager Bryan Price either late on Sunday or sometime yesterday.
Los Angeles manager Dave Roberts was pleased to hold on for the win.
"It got a little close for us," Roberts said. "They put some good at-bats against us. Like I've said, that's a very good offensive club. To get out of here with three [wins] is huge."
Cincinnati scored more than three runs for the first time in six games, but still extended their longest losing streak of the season to nine games.
Scooter Gennett hit a three-run home run, his first since he had a major league record-tying four on June 6, while Adam Duvall and Eugenio Suarez each added solo shots for the Reds.
Kenley Jansen got the final three outs for his 15th save.
Comments will be moderated. Keep comments relevant to the article. Remarks containing abusive and obscene language, personal attacks of any kind or promotion will be removed and the user banned. Final decision will be at the discretion of the Taipei Times.