Mayweather-McGregor bout 'bad for boxing': Duva
Promoter Kathy Duva said the Floyd Mayweather Jr-Conor McGregor fight is "bad for boxing" and the backlash from the exhibition spectacle will likely dog the sport for years to come.
"Of course it's bad for boxing," Duva said. "It's going to suck up all the air in the room."
Boxing legend Mayweather and mixed martial arts (MMA) superstar McGregor on Wednesday announced plans for a boxing showdown that could become one of the richest bouts in history. The fight is to take place on Aug. 26 in the US boxing capital of Las Vegas.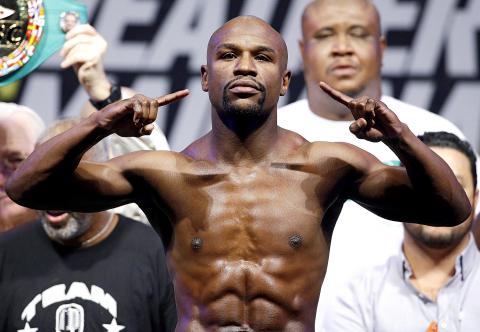 Floyd Mayweather Jr poses on the scale during a weigh-in for a fight against Marcos Maidana in Las Vegas on Sept. 12, 2014.
Photo: AP
"You're all going to write about it. People will get all excited," Duva said of the competition. "And the casual fans we always want to bring into the tent are going to be disappointed again."
"It's going to be years before they want to see another boxing event," she told the Los Angeles Times.
Mayweather, who is considered one of the greatest boxers of all time, is a heavy favorite against McGregor — who has not boxed competitively in the ring since he was a teenager.
"It's not a boxing event, it's a spectacle," said Duva, promoter for Russian boxer Sergey Kovalev, who was yesterday to fight Andre Ward in a world title light heavyweight rematch.
"On the other hand, when this is over and this fight ends up the way I expect it will, the next time somebody asks me, 'MMA or boxing, what's the better sport?' I'll say: 'We know who the bad asses are, because Ronda Rousey and Conor McGregor just got their asses kicked by two boxers,'" Duva said. "We'll have that to cling to."
There are some who think that if McGregor starts losing he might resort to throwing elbows and kicks at Mayweather, but the promoters of the fight have said that will not happen.
"It is in the contract," Ultimate Fighting Championship president Dana White said. "The fight is under the rules of boxing. There would be a lawsuit. If that ever happened, Conor would depart with a lot of money, and Conor likes money."
White said plans are in the works to have the fighters go on a promotional tour of major US cities.
Since the fight was announced, Mayweather has mentioned it just once via social media — as he appears to be more concerned about showing off his extravagant lifestyle.
He has launched something he calls the "Mayweather Challenge," because he is "tired of people on social media bragging they live a certain lifestyle when they don't."
Over the past few days, Mayweather has made a point of using his Twitter and Instagram accounts to show off his private jet.
That was followed by a video taken inside his Rolls-Royce Phantom, in which he boasts about his Patek Philippe gold watch while the camera pans down to show off his chinchilla fur floor mats.
Comments will be moderated. Keep comments relevant to the article. Remarks containing abusive and obscene language, personal attacks of any kind or promotion will be removed and the user banned. Final decision will be at the discretion of the Taipei Times.