Mistakes blamed for Cavaliers' woes
'STOP DURANT': Cavaliers coach Tyronn Lue said that his team would improve and pointed to Kevin Durant as a key member of the opposition to prevent scoring
Struggling with turnovers and defensive communication, defending NBA champions the Cleveland Cavaliers are counting on learning from their mistakes to fight their way back in the NBA Finals.
Powered by 38 points from Kevin Durant and 28 from Stephen Curry, the Golden State Warriors ripped Cleveland apart 113-91 in Thursday's opener of the best-of-seven championship series, aided by 20 Cavaliers turnovers to only four by the hosts.
"A lot of our actions on the defensive end, a lot of our communication, we're just going to have to dig our feet in and be able to guard the basketball," Cavaliers guard Kyrie Irving said. "It's more or less a heart thing, a prideful thing. Going into Game 2 we'll be a lot more settled in, a lot better on the defensive end. We'll get better."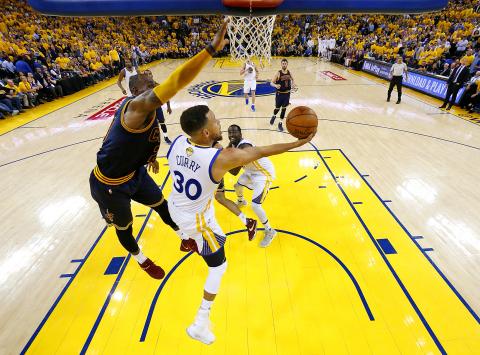 Golden State Warriors guard Stephen Curry, center, goes under the basket as Cleveland Cavaliers forward LeBron James, left, defends during Game 1 of the NBA Finals at the Oracle Arena in Oakland, California, on Thursday.
Photo: EPA
The Cavaliers can level the series by winning Game 2 tomorrow before the series shifts to Cleveland.
While the Cavs rallied from 3-1 down to win last year's crown in the greatest comeback in NBA Finals history, it is not a hole they want to get into again, especially with the Warriors on a 13-0 winning run.
"We made a lot of mistakes," Cavaliers star LeBron James said. "They capitalized, and we get a couple days to see what they did and see what we did wrong and how we can be better in Game 2. We know we're capable of playing a lot better."
Golden State scored 21 points off Cavaliers' turnovers, while making only four giveaways, matching a one-game NBA Finals record low. The speedy Warriors' fast break proved more than Cleveland could silence.
"When you turn the ball over, that's when they become very dangerous because those guys, they sprint down the lane, they sprint to the three-point line, they put a lot of pressure on your defense," James said.
Cavaliers coach Tyronn Lue dubbed the Warriors "the best I ever seen," but added: "They're playing good basketball, but we can play better."
Durant dominated early with dunks when the Cavs tried to silence the three-point sharpshooters, only to have Curry catch fire in a 13-0 run that opened the second half and put Cleveland down by double digits for good.
"We've got to make it much tougher on him," Lue said of Durant.
"Can't give a great scorer like Durant easy baskets. We've got to do a better job taking that away," he said.
Comments will be moderated. Keep comments relevant to the article. Remarks containing abusive and obscene language, personal attacks of any kind or promotion will be removed and the user banned. Final decision will be at the discretion of the Taipei Times.