Racism is 'part of America': James
NBA superstar LeBron James on Wednesday took aim at racism in the US after police said a racial slur was painted on a gate of the home he owns in Los Angeles.
The incident came on the eve of Game 1 of the NBA Finals, which pits James' reigning champions the Cleveland Cavaliers against the Golden State Warriors.
"No matter how much money you have, no matter how famous you are, no matter how many people admire you, being black in America — it's tough," James told reporters in Oakland, California, where Game 1 was to take place yesterday. "It just goes to show that racism will always be a part of the world, a part of America."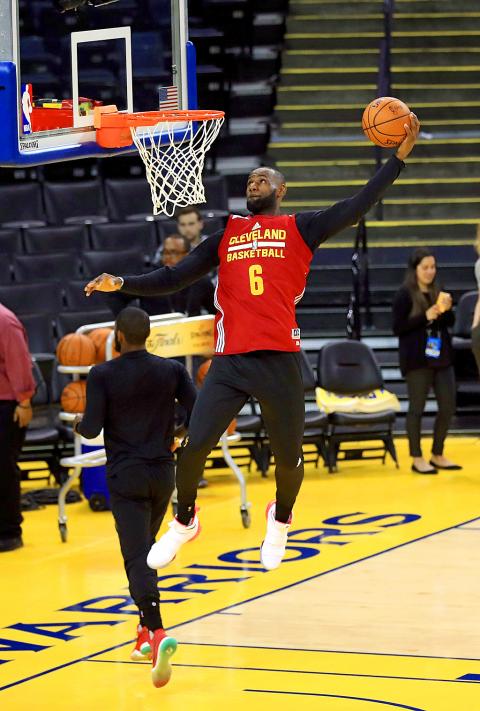 LeBron James of the Cleveland Cavaliers practices ahead of the NBA Finals in Oakland, California, on Wednesday.
Photo: AFP
Los Angeles Police Department spokesman Aareon Jefferson said the offensive graffiti was painted on an outer gate of the US$20 million home James purchased in 2015 in the city's upscale Brentwood neighborhood.
Police were notified at about 6:45am and the graffiti was quickly covered by property management staff, Aareon said.
Hours later, an emotional James addressed the matter.
"Hate in America, especially for African-Americans, is living every day," said James, who added that when he was told of the incident, he thought of the mother of Emmett Till, a black American who was lynched in 1995 at the age of 14.
Till's mother insisted her son's casket be left open at his funeral so the brutality of his death could be seen.
James said he hoped the incident "can keep the conversation going, and can shed light on us trying to figure out a way to keep progressing and not regressing."
The 32-year-old has spoken out before on social and political issues. He denounced fatal police shootings of unarmed black men and endorsed former US secretary of state Hillary Rodham Clinton for president.
However, he said it was "killing me inside" that he would not be able to discuss the vandalism with his two young sons, who were with the rest of the family at their Ohio home.
"My little girl's too young to actually understand it right now, but I can't sit in front of my boys right now and I won't be home until next week, so this is kind of killing me inside right now, but my wife is unbelievable ... she said everything's fine, so that helps me out a lot," he said.
James admitted the incident had left him feeling less than his "normal energetic self."
He vowed he would not let it throw him off as the Cavaliers try to defend their crown in the best-of-seven NBA Finals — but it was a reminder of where basketball fits in the broader scheme of life.
"I'll be focused tomorrow on our game plan and focused on these games," James said. "I will be as focused as I can be on the job at hand tomorrow, but this is a situation where it just puts me back in place of what's actually more important — and basketball's not the most important thing in my life."
Comments will be moderated. Keep comments relevant to the article. Remarks containing abusive and obscene language, personal attacks of any kind or promotion will be removed and the user banned. Final decision will be at the discretion of the Taipei Times.