Hakuho secures perfect record at summer sumo
Grand champion Hakuho yesterday celebrated his 38th Emperor's Cup with a win over Mongolian compatriot Harumafuji to finish the Summer Grand Sumo Tournament undefeated.
Hakuho forced out Harumafuji (11-4) in the day's final bout at Ryogoku Kokugikan to improve to 15-0 a day after securing his first title in a year with a win over ozeki Terunofuji.
Hakuho won the summer tournament last year, but has since struggled with foot and thigh injuries and missed much of a tournament in March because of injuries.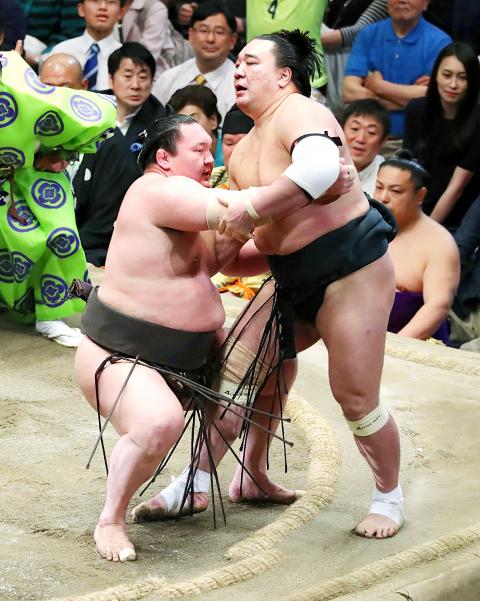 Mongolian yokozuna Hakuho, left, yesterday pushes out fellow Mongolian yokozuna Harumafuji to finish with a perfect 15-0 record on the final day to win the 15-day Summer Grand Sumo Tournament in Tokyo, Japan.
Photo: AFP
Hakuho won his 33rd title in 2015 to break Taiho's record for the most Emperor's Cups in the history of sumo.
The 32-year-old Mongolian has said he would like to win 40 championships.
In other bouts, sekiwake Takayasu lost to Terunofuji (12-3) to drop to 11-4.
Comments will be moderated. Keep comments relevant to the article. Remarks containing abusive and obscene language, personal attacks of any kind or promotion will be removed and the user banned. Final decision will be at the discretion of the Taipei Times.