Senators chase Fleury amid 5-1 rout of Penguins
Mike Hoffman and his Ottawa Senators teammates heard all the chatter on social media about their style of play, which some perceived as "boring."
Their response was emphatic.
Marc Methot, Derick Brassard and Zack Smith scored in a 2 minute, 18 second span midway through the first period to chase Pittsburgh goaltender Marc-Andre Fleury out of the game as the Senators beat the Penguins 5-1 on Wednesday night to take a 2-1 lead in the NHL Eastern Conference finals.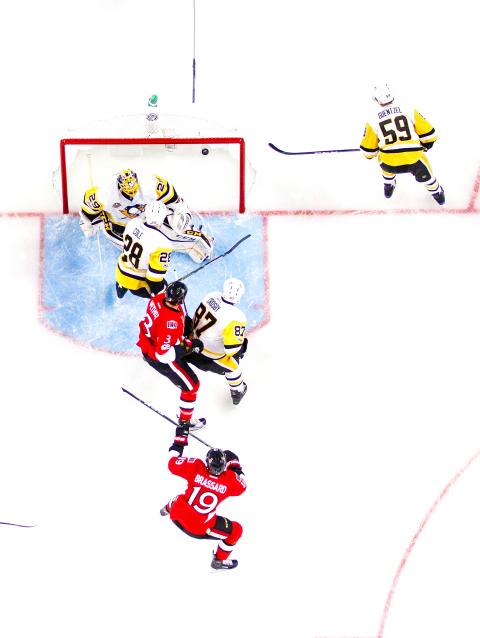 The Ottawa Senators Marc Methot, second bottom, left, scores a goal against the Pittsburgh Penguins in Game 3 of the NHL Eastern Conference finals at the Canadian Tire Centre in Ottawa, Ontario, on Wednesday.
Photo: AFP
"It's tough when you give up that many goals in the first period you don't really give yourself or your team a chance in the game," Penguins coach Mike Sullivan said.
Hoffman opened the scoring 48 seconds in and the Senators blew it open against the sluggish Penguins a few minutes later with the fastest three goals in team playoff history. Kyle Turris made it 5-0 late in the second period.
"If we played a run-and-gun game that maybe some people would rather watch, we probably wouldn't be here," Hoffman said after routing the defending Stanley Cup champions. "So we use our assets and that's what works."
Sidney Crosby ended Craig Anderson's shutout bid with a power-play goal in the third.
Pittsburgh have scored a goal in each game in the series, dropping the opener 2-1 in overtime and winning the second 1-0.
"It was a bad start," Crosby said. "You don't want to get down at any point, but to get down 4-0 is digging a pretty big hole."
Anderson finished with 25 saves. Fleury allowed four goals on nine shots, while Matthew Murray made 19 saves in relief.
Coach Guy Boucher has insisted on an extremely defensive style from the day he took over the Senators in May last year.
It took until December for the team to fully embrace it, but that is when everyone knew where they needed to be on the ice and what their responsibility was.
"At this level, you do what the coach says," said Hoffman, who also played for Boucher in the Quebec Major Junior Hockey League. "We're workers here. We don't decide which system is put in place. We just have to go out there and execute it and do our job."
Game 4 is in Ottawa today.
Comments will be moderated. Keep comments relevant to the article. Remarks containing abusive and obscene language, personal attacks of any kind or promotion will be removed and the user banned. Final decision will be at the discretion of the Taipei Times.