Thomas leads Celtics to Game 7 win over Wizards
SANCTUARY: The All-Star has credited his teammates for giving him the strength to perform at a high level in the playoffs, which started amid his younger sister's death
Isaiah Thomas said he did not feel any pressure entering the first Game 7 of his career.
His play on Monday night backed up his confidence and, with the help of Kelly Olynyk and the Boston Celtics bench, Thomas earned the biggest victory of his career.
Thomas scored 29 points and had 12 assists, while Olynyk scored a playoff career-high 26 points as the Celtics used a big fourth quarter to outlast the Washington Wizards 115-105 in Game 7 of the Eastern Conference semi-finals.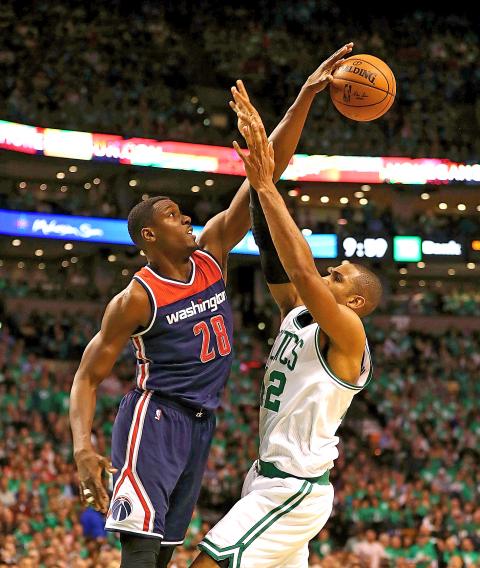 The Washington Wizards' Ian Mahinmi, left, blocks a shot by the Boston Celtics' Al Horford in Game 7 of the NBA Eastern Conference semi-finals series at TD Garden in Boston on Monday.
Photo: AFP
"I knew it would be a big-time game tonight. I knew it wouldn't be easy at all," Thomas said. "And we came out on top."
Led by Olynyk, the Celtics got a huge lift from their bench, outscoring their Wizards' counterparts 48-5. Boston also connected on 11 three-pointers, including eight of 13 in the second half.
"We needed it," Olynyk said. "That's a tough team that we played seven tough games against and they can score. We needed to help out the starters, help out Isaiah."
Boston advance to the Eastern Conference finals, where they are to host the Cleveland Cavaliers in Game 1 today. It is the Celtics first appearance in the conference finals since 2012.
"What a special opportunity to get a chance to compete against them," Boston coach Brad Stevens said.
For Thomas it serves as the ultimate validation for a team that many felt was unworthy of the conference's top seed.
It also marked the latest big performance by Thomas, in a playoff run that began in the haze of his younger sister's death in a car accident.
The 28-year-old All-Star has called the basketball court his sanctuary and he continues to credit his teammates for giving him the strength to perform at a high level.
"That says a lot about the team we are and we believe in each other," Thomas said. "The game wasn't always what we wanted it to be and it wasn't a perfect game, but we kept going and stayed the course."
Bradley Beal led the Wizards — who were playing their first Game 7 since 1979 — with 38 points, including 24 in the second half.
"I don't care how well I played," Beal said afterward. "I don't care if I played bad. The end result ... the only thing that matters is getting a win."
Otto Porter added 20 points. John Wall and Markieff Morris each finished with 18.
However, Washington also had 15 turnovers, leading to 17 Celtics' points.
Boston trailed 76-72 late in the third quarter before ending the period on a 13-3 spurt. The run grew to 22-5 in the opening minutes of the fourth as the Celtics' lead became 94-81.
However, Washington quickly responded, scoring seven straight in just 51 seconds to get back within six.
Washington stayed close as Beal continued to score, including a four-point play.
However, Olynyk then took over. He scored 11 of 13 points for Boston as the Celtics stretched their advantage to 110-100.
"He just made shots," Marcin Gortat said of Olynyk. "He was the difference today — a huge difference."
Brooks played Beal and Wall 46 and 45 minutes respectively, but said it was necessary to try to stay in the game.
"I knew it would come down to the last six minutes of the game," Washington coach Scott Brooks said. "They had that little run at the start of the fourth quarter."
The Celtics had the largest lead of the first half at 10-2, but that gap was quickly erased by Washington as Boston started to accumulate fouls.
Marcus Smart, Amir Johnson and Olynyk were all whistled for three fouls in the opening 24 minutes, although Smart did inject some life into a second unit that outscored their Wizards' counterparts 19-5.
Wall and Beal each were beneficiaries, scoring eight and nine points respectively in the second quarter to help the Wizards take a two-point lead into halftime.
"It's tough. We came out here Game 7 and gave everything we had. Just came up short," Wall said. "Our goal was to get to Eastern Conference finals and we came up one game short. So it's not a satisfied season to me."
Comments will be moderated. Keep comments relevant to the article. Remarks containing abusive and obscene language, personal attacks of any kind or promotion will be removed and the user banned. Final decision will be at the discretion of the Taipei Times.