Starter Gausman ejected as Orioles beaten by Red Sox
Major League Baseball told the Red Sox and Orioles to stop their festering feud. Then the umpires backed it up.
Hours after a conference call on Wednesday to tell the Red Sox and Orioles "enough is enough," Baltimore starter Kevin Gausman was ejected in the second inning for hitting a batter as Boston went on to win 4-2.
"Given the situation, and the tension between the two clubs and all the stuff that's gone over the past few weeks, we're all on high alert," chief umpire Sam Holbrook said in a statement. "There needs to be an end to this stuff and I felt like an ejection was the right thing to do at that time."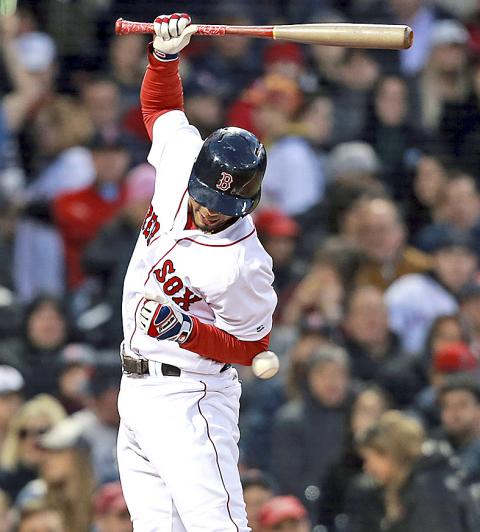 Xander Bogaerts of the Boston Red Sox is hit by a pitch from Baltimore Orioles starter Kevin Gausman in the second inning of their American League game at Fenway Park in Boston, Massachusetts, on Wednesday.
Photo: AP
Orioles center fielder Adam Jones was ejected later, too, after arguing a called strike in the fifth.
On Monday night, the All-Star player was the target of racial slurs at Fenway Park and on Tuesday the Red Sox fans gave him a loud ovation.
He did not comment after the game.
Gausman was ejected after what appeared to be a curve-ball hit Xander Bogaerts. Catcher Caleb Joseph slammed his mask on the plate and manager Buck Showalter bolted from the dugout to argue. Gausman looked puzzled at first and then hollered.
Gausman said it was "pretty bush league" that he was tossed, especially since Red Sox starter Chris Sale was merely warned after throwing a pitch behind Manny Machado the night before.
"He did it on purpose and everybody knew it," Gausman said. "For him to get away with it, and I hit a guy with a curve-ball and they throw me out of the game, that's pretty ridiculous."
Josh Rutledge drove in a pair of runs for Boston after entering the game in the first inning when starting third baseman Marco Hernandez left with a strained left shoulder.
Drew Pomeranz (3-1) gave up two runs on five hits, his fourth time in five starts he has allowed two or fewer runs.
Craig Kimbrel struck out the side in the ninth for his 10th save.
Gausman (1-3) took the loss.
Reliever Richard Bleier allowed Bogaerts to score on Rutledge's single in the second.
Comments will be moderated. Keep comments relevant to the article. Remarks containing abusive and obscene language, personal attacks of any kind or promotion will be removed and the user banned. Final decision will be at the discretion of the Taipei Times.