As Brazilian soccer soars, courts detail graft in sports
Brazil and superstar Neymar were the first to qualify for next year's World Cup, save for Russia, who got an automatic berth as the hosts.
Winning a record sixth World Cup might help some forget the humiliating 7-1 home loss to Germany three years ago in the World Cup semi-finals.
However, as the soccer team soar, more details are emerging in Brazilian Supreme Court documents describing a corrupt infrastructure in the nation's sports and its governing bodies.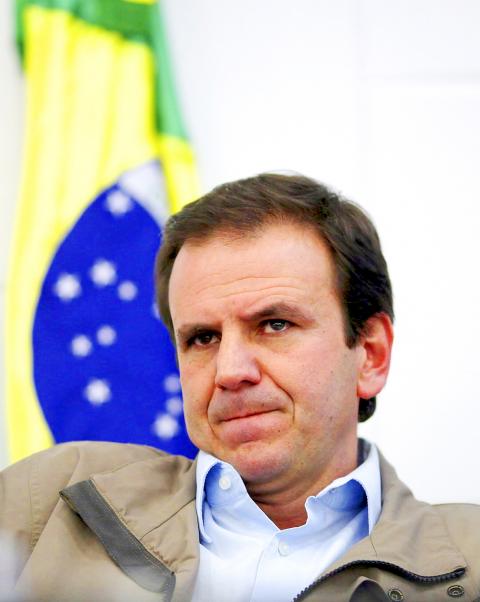 Then-Rio de Janeiro mayor Eduardo Paes speaks at a news conference in the city on July 16, 2013.
Photo: EPA
Plea-bargain testimony shows staggering kickbacks tied to the 2014 World Cup and last year's Rio de Janeiro Olympics, detailed in testimony by executives and former executives of Odebrecht, the Brazilian construction company at the center of a billion-dollar graft scandal.
"People can stand so much, and obviously the hardcore fans continue unbothered," soccer historian David Goldblatt told reporters. "I think now there are many Brazilians who feel less affectionate toward the game. They know that rather than showing off the best of Brazil, often it's showing off the worst."
Testimony shows that at least six of Brazil's 12 World Cup stadiums were built or financed through graft.
Former Odebrecht vice president Benedicto Barbosa da Silva testified that the company did not want to be involved with World Cup stadiums because there were sure they would become "white elephants."
Many did, including stadiums in Brasilia, Manaus, Cuiaba, Natal and Recife. Brasilia's has been used as a bus terminal.
FIFA required only eight stadiums, but politicians, construction companies and sports officials pushed for more.
FIFA and the International Olympic Committee say construction projects are left to local organizers, though sports venues must meet stringent Olympic or World Cup specifications.
"There is an increasing number of literate, computer-savvy, media-connected young Brazilians who are struggling away and don't buy the football, the sports myth any longer," said Goldblatt, the author of The Ball is Round: A Global History of Football and Futebol Nation.
Former Rio de Janeiro mayor Eduardo Paes was the moving force behind last year's Olympics. Now he is being investigated for taking at least 15 million reais (US$5 million) in payments to push construction projects linked to the Games.
In December, Paes unexpectedly called off plans to teach in New York at Columbia University after a court froze his assets as a prosecutor investigated if he waived environmental rules for the billionaire developer of Rio's Olympic golf course.
He has denied all charges.
Sergio Cabral, a former governor of the state of Rio de Janeiro and an early Olympic booster, has been jailed on corruption charges and awaits trial.
"Brazil's double-whammy has given us a shove toward a place where people still want to watch sports mega-events like the Olympics and World Cup, but no one wants to actually host them," Jules Boykoff, who teaches sports politics at Pacific University, told reporters.
Comments will be moderated. Keep comments relevant to the article. Remarks containing abusive and obscene language, personal attacks of any kind or promotion will be removed and the user banned. Final decision will be at the discretion of the Taipei Times.