Warriors to finish with NBA's best record
The NBA regular season belongs to the Golden State Warriors — again.
The Bay Area dynamos on Wednesday needed 42 points from Stephen Curry to hold off the pesky Phoenix Suns 120-111, a victory that ensured Golden State would have the best record in the NBA for the third straight season.
"Yeah, it's impressive," Warriors coach Steve Kerr said. "We have had a great run."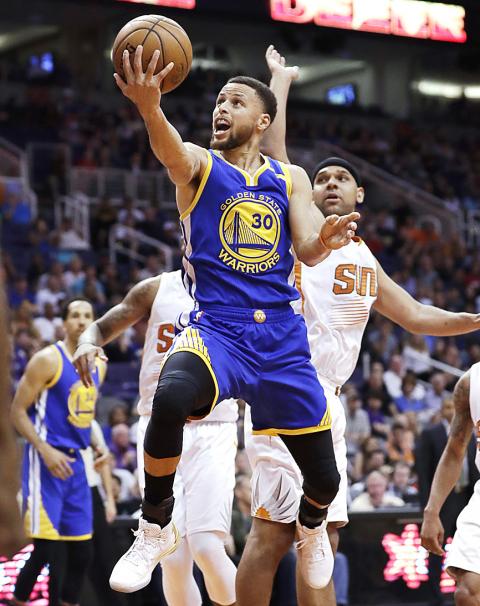 Stephen Curry of the Golden State Warriors, front, drives to the basket against the Phoenix Suns in their NBA game in Phoenix, Arizona, on Wednesday.
Photo: AP
The Warriors won their season-best 13th straight game, all of them without the injured Kevin Durant.
Getting the top playoff seed was "a goal that we set going into the season to make sure the regular season mattered for us, to clinch that, and we did," Curry said.
With Draymond Green and Andre Iguodala resting, and Durant one game away from returning from injury, the Warriors prevailed in front of a noisy crowd.
"I think our guys enjoy the position we are in. They know it is a special era that is not going to last forever," Kerr said. "We have a special group of talented players at the same time, so we are trying to enjoy every moment."
Curry scored 23 points in the first quarter when the Warriors blew open a 41-18 lead, but the Suns rallied with a 34-17 second quarter and made a game of it from there.
"I think we got mesmerized as a team," Kerr said. "We were so enamored with what Steph was doing that we kind of stopped playing to start the second quarter."
The Warriors are the first team to win at least 65 games in three straight seasons.
Klay Thompson scored 22 for the Warriors, including a critical late three-pointer.
With San Antonio's loss to the Los Angeles Lakers, the Warriors are 65-14, 4.5 games ahead of the Spurs. Golden State have three games to play, San Antonio four.
Comments will be moderated. Keep comments relevant to the article. Remarks containing abusive and obscene language, personal attacks of any kind or promotion will be removed and the user banned. Final decision will be at the discretion of the Taipei Times.