John Wall criticizes refs after Wizards lose to Jazz
Washington guard John Wall lashed out at game officials after the Wizards' 95-88 loss to the Utah Jazz in Salt Lake City on Friday.
Wall was irked that the Wizards were sent to the free-throw line just 16 times, while the Jazz had 31 free-throw attempts.
"We didn't lose this game," Wall said.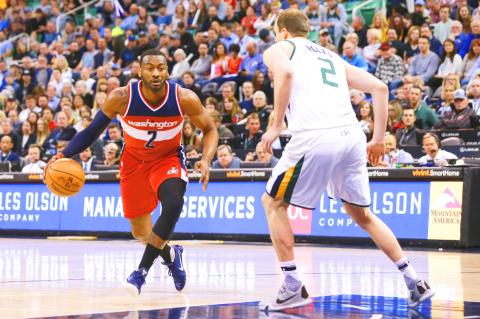 Washington Wizards guard John Wall dribbles the ball during their game against the Utah Jazz in Salt Lake City, Utah, on Friday.
Photo: AP
"The refs made us lose this game. We fought hard to give ourselves a chance ,but you don't shoot no 31 free throws to 16 the way we attack the basket as a team. That's how I feel about it," he said.
Wall was also whistled for a technical foul after striking Jazz big man Rudy Gobert below the belt midway through the third quarter.
Wall said the call was "outrageous," insisting it was incidental contact.
He said game officials should take into account the Wizards' aggressive style.
"We're a good team and we're not a sorry team," Wall said. "We're a good team that comes out and plays hard every night and we deserve certain calls."
The playoff-bound Wizards are now tied for the third seed in the Eastern Conference with Toronto, who beat the Indiana Pacers 111-100 on Friday.
The Jazz maintained their hold on the No. 4 seed in the West, 1.5 games ahead of the Los Angeles Clippers.
Comments will be moderated. Keep comments relevant to the article. Remarks containing abusive and obscene language, personal attacks of any kind or promotion will be removed and the user banned. Final decision will be at the discretion of the Taipei Times.