World Cup Qualifiers: Coach sorry for Albania fans, Ventura lauds Italy
FLARE FOR SOCCER: Italy's Gianluigi Buffon marked his 1,000th professional game on Friday during a match that was cut short because of overzealous supporters
Albania coach Gianni de Biasi apologized for Albania's flare-throwing fans on Friday after a 2-0 defeat to Italy that maintained a rejuvenated the Italian teams hopes of qualifying for the 2018 World Cup in Russia.
De Biasi had warned that Palermo's Stadio Renzo Barbera in Italy would be heavily attended by fans keen to follow his side following their historic, major finals appearance at the UEFA European Championship last year.
However, Albania's feisty supporters left a decidedly negative impression in a match decided either side of a seven-minute interruption in the 57th minute, by goals from Daniele de Rossi, from the spot, and Ciro Immobile, in the 71st minute.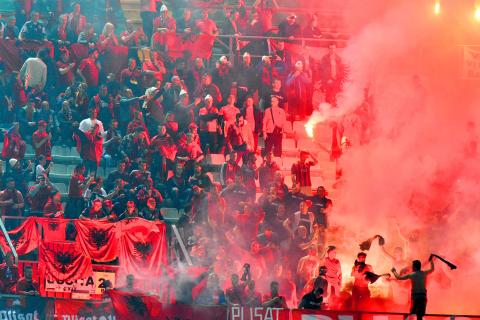 Albania supporters light flares on Friday during a 2018 World Cup Group G qualifying soccer match between Italy and Albania, at Palermo's Stadio Renzo Barbera in Italy.
Photo: AP
Referee Slavko Vincic suspended the match in the second half due to the persistent throwing of flares and smoke bombs by Albanian supporters.
De Biasi, a native Italian who sang both national anthems before kick-off, said: "I'm very sorry about [fans throwing] the smoke flares. I saw something tonight I hadn't seen in five years. I'm really sorry and disappointed."
"We were still in the game until the second goal, that's the most positive thing for us." De Biasi said. "But Italy are a quality side, in great condition, and some of our players are not even playing in their clubs, so our performance was more than acceptable."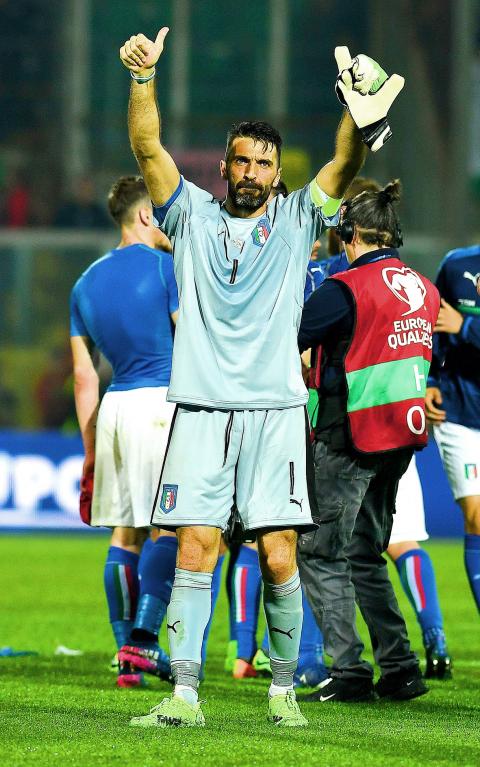 Italy goalkeeper Gianluigi Buffon celebrates on Friday after their 2018 World Cup qualifying Group G qualifying soccer match against Albania at Palermo's Stadio Renzo Barbera.
Photo: EPA
When Italy captain De Rossi stepped up to beat Thomas Strakosha on 12 minutes, two rocket flares that had been thrown onto the pitch were still burning brightly on the left side of the area.
Italy resumed in a positive fashion when play resumed after an about seven-minute interruption which began in the 57th minute, Immobile beat Strakosha with a fine header from Davide Zappacosta's delivery in the 71st minute.
A fourth win from five games leaves Italy second in Group G, on the same points (13) as Spain, who boast a superior goals difference.
Italy manager Gian Piero Ventura lamented the lack of "fluidity" from his side in a match of few thrills, but he was quick to lay out his future vision for what is shaping up, on paper, to be an intriguing side featuring a mix of youth and experience.
"Certainly, tonight we didn't see an extraordinarily exhilarating game," Ventura said. "But I can tell, despite the fact we have a lot of fresh, young talent, a real team is in the process of being born."
"I don't see why we don't have all the ingredients of a great Italy side for the future," he said.
Torino striker Andrea Belotti, 23, on a league-leading 22 goals in the Italian Serie A, led Italy's attack with Immobile while veteran 'keeper Gianluigi Buffon made his 168th appearance in what was his 1,000th professional game.
"With the likes of Buffon, Leonardo Bonucci, Andrea Barzagli and myself we have the experienced backbone of the team, but there is lots of fresh young talent here," de Rossi said.
Comments will be moderated. Keep comments relevant to the article. Remarks containing abusive and obscene language, personal attacks of any kind or promotion will be removed and the user banned. Final decision will be at the discretion of the Taipei Times.