Phil Kessel scores winner as Penguins win 3-2 in shootout
Edmonton's Connor McDavid stretched his lead atop the NHL scoring race, but Sidney Crosby's Pittsburgh Penguins got the even more important two points for the win on Friday night.
Phil Kessel scored the shootout winner and the Penguins came away with a 3-2 victory over the Edmonton Oilers.
McDavid had a goal in regulation to move him to 75 points for the season, while Crosby was held off the scoresheet.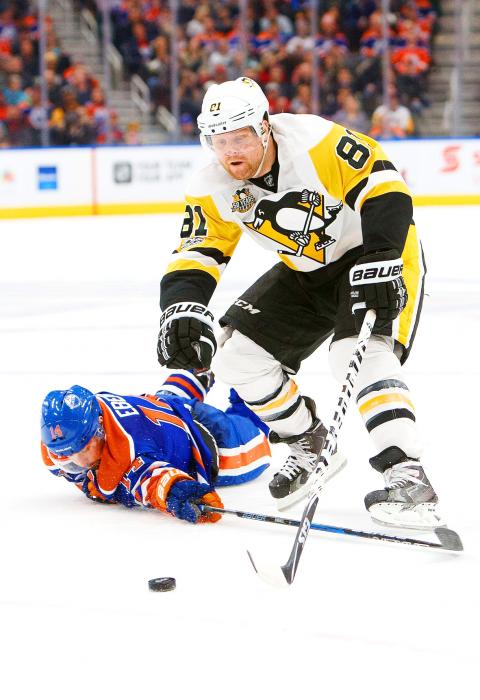 The Pittsburgh Penguins' Phil Kessel, right, and Jordan Eberle of the Edmonton Oilers vie for the puck during their game at the Rogers Place in Edmonton, Alberta, on Friday.
Photo: AFP
Both players notched goals in the shootout.
McDavid said he still gets a charge out of playing one of his childhood idols in Crosby.
"To say it's a normal game would be lying," he said. "Obviously, he's someone I've looked up to my whole life. To play against him is fun. It was probably to my advantage, it's easier for me to get up to play against him than it is for him to get up to play against me."
Penguins coach Mike Sullivan said it was a pleasure to watch all the high-end talent on display.
"It was a pretty fast-paced game and those guys [Crosby, McDavid] are elite players," he said. "It was certainly one of the faster-paced games that we've played in."
Nick Bonino and Evgeni Malkin scored in regulation for the Penguins, who have won four games in a row.
Crosby said the player most deserving of credit on the night was goaltender Marc-Andre Fleury, who made 40 saves.
"It was one after another as far as some of the saves he made," he said. "He was incredible tonight. You can tell when he's got that mindset and he's having fun. We made it tough on him, but he was great."
David Desharnais also scored for the Oilers, who have lost two straight.
Pittsburgh scored the game's first goal six minutes into the opening period as Oilers goaltender Cam Talbot was down on a rebound, allowing Scott Wilson to pass it in front and give Bonino an easy goal.
The Penguins went up 2-0 in the first as a shot got behind Talbot and was rolling slowly into the net before McDavid tried to kick the puck to safety, only to have it hit Talbot's pads and go in. Malkin was credited with the goal.
Edmonton cut into the lead five minutes into the second period as Desharnais poked a loose puck under Fleury for his first goal with the Oilers.
The Oilers tied the game 13 minutes into the third period as McDavid made no mistake on a rebound opportunity.
Comments will be moderated. Keep comments relevant to the article. Remarks containing abusive and obscene language, personal attacks of any kind or promotion will be removed and the user banned. Final decision will be at the discretion of the Taipei Times.