Wiggins lifts Wolves over Golden State
OFF-FORM CURRY: Stephen Curry missed his first four attempts at three-pointers for the Warriors as the Timberwolves chase a Western Conference playoff place
Stephen Curry got free for a clean look, and a record crowd at Target Center held its collective breath when he let it fly. Like it has so often during a remarkable slump for the NBA's best shooter, the ball clanked off the rim again.
Like they have so often during a late-season surge toward playoff contention, the Minnesota Timberwolves walked off the court winners again.
Andrew Wiggins scored 20 of his 24 points in the second half and hit the go-ahead free throws with 12.8 seconds remaining to lift the Timberwolves to a 103-102 victory over the scuffling Golden State Warriors on Friday night.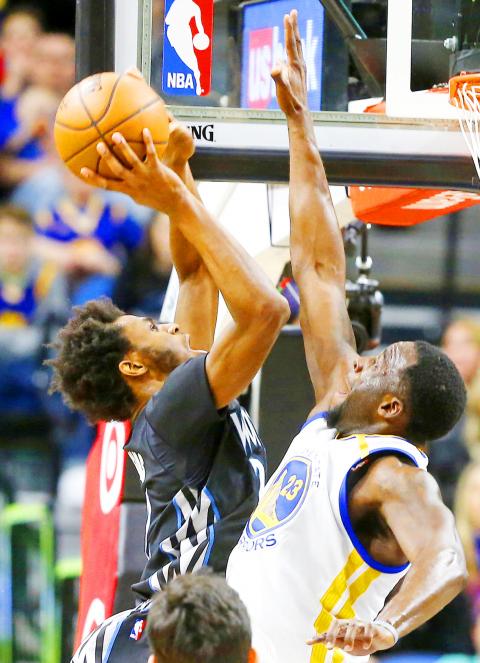 The Minnesota Timberwolves' Andrew Wiggins, left, shoots over Draymond Green of the Golden State Warriors during their game in Minneapolis, Minnesota, on Friday.
Photo: AP
Ricky Rubio had 17 points and 13 assists, while Karl-Anthony Towns scored 23 points to give the Timberwolves their sixth win in eight games as they try to chase down the eighth seed in the Western Conference playoff race.
"We are learning and getting experience," Rubio said. "These games are meaning a lot. We are going after it."
Klay Thompson scored 30 points for Golden State, but Curry's struggles continued in the Warriors' second straight loss and fourth in six games without injured star Kevin Durant. Curry scored 26 points, but was just 10 for 27 from the field and one for eight from three-point range.
The Golden State Warriors' Stephen Curry, right, dribbles the ball against the Minnesota Timberwolves during their game in Minneapolis, Minnesota, on Friday.
Photo: AP
He missed a shot in the closing seconds that would have won the game.
"Whether we get the one seed or not, it's about us just playing better, finding a rhythm down the stretch of the season," Curry said. "And there's enough games for us to do that."
Wiggins missed a pair of free throws with 29 seconds left that would have given the Wolves a three-point lead. After Curry hit a floater for a 102-101 Golden State lead, Wiggins responded by calmly knocking down two in a row.
Before a two-game skid against Washington and Chicago last week, the Warriors had gone a league-record 146 straight regular-season games without consecutive losses. Their next streak lasted just two.
In his past 13 games, Curry was shooting 29.7 percent from three-point range and he missed his first four from long range on Friday night. His first three-pointer of the night splashed through with 7 minutes, 59 seconds to go in the third quarter, but he missed his next two to keep the floodgates closed.
The Warriors were down 14 to start the fourth, but Curry scored nine points in the final four minutes before missing his final shot.
"You take that shot that Steph got any day of the week," Thompson said. "It went in and out."
Curry needed 14 points to surpass his father, Dell, in career scoring. Dell Curry scored 12,670 points in his career.
Comments will be moderated. Keep comments relevant to the article. Remarks containing abusive and obscene language, personal attacks of any kind or promotion will be removed and the user banned. Final decision will be at the discretion of the Taipei Times.