Spurs win, clinch playoff spot
SECOND IN: Although it is early in the NBA season, the Spurs are the second team to make it into the playoffs, with Golden State beating out the Brooklyn Nets last week
Kawhi Leonard scored 34 points and the San Antonio Spurs shrugged off a listless start on Saturday to beat the Minnesota Timberwolves 97-90 in overtime and clinch a NBA playoff spot.
Leonard led his team to their second straight overtime victory in as many days as the Spurs booked their 20th consecutive post-season berth. Leonard scored six of his 34 points in overtime as San Antonio stretched their winning streak to seven games.
Leonard finished with a team-high 31 points in a 101-98 victory over the New Orleans Pelicans on Friday.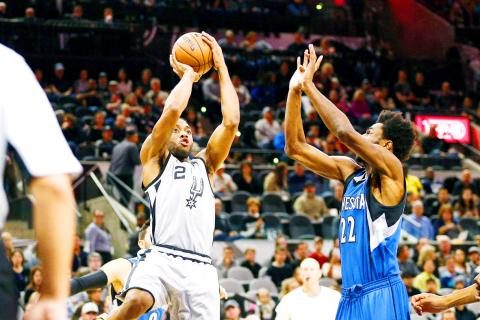 San Antonio Spurs small forward Kawhi Leonard on Saturday shoots against the Minnesota Timberwolves at the AT&T Center in San Antonio, Texas.
Photo: Soobum Im-USA TODAY
"We were locked in and just wanted to get this win tonight. That is where I got my energy from," Leonard said. "We got in pretty late last night. We just had to stay in it. Everybody plays back-to-backs."
It is still early in the month, but the Spurs are the second NBA team this season to get into the playoffs behind Golden State, who did it on Saturday last week with a 112-95 win over the Brooklyn Nets.
The Spurs overcame three-and-a-half lethargic quarters of play on Saturday before staging a furious comeback in front of a crowd of 18,400 at Minnesota's AT&T Center arena.
"We didn't give in. We realize more and more that you don't have to panic you just have to keep playing," coach Gregg Popovich said. "We were very fortunate to win the game."
Leonard's two baskets and a pair of free throws gave the Spurs a 94-90 lead with 2 minutes, 21 seconds left in overtime and a Danny Green putback with 18 seconds left iced the win for San Antonio.
The game was tied 83-83, but San Antonio had the final possession and 18.9 seconds to find a game-winning shot in regulation.
Leonard dribbled out all but the final 3 seconds from above the top of the key, drove to his left against Andrew Wiggins, but did not get a shot off before the quarter expired.
"Tonight was a character-builder type game," Green said. "We had to stick to it for 53 minutes and let our defense win the game for us."
In Houston, James Harden caught fire in the third quarter en route to his league-leading 49th double-double as the Houston Rockets toppled the Memphis Grizzlies 123-108 to split the season series.
Harden scored 20 of his game-high 33 points in the third, including 15 consecutive points for the Rockets.
Harden added 11 assists, while Rockets center, Clint Capela, tallied a career-high 24 points with 11 rebounds for his 10th double-double this season.
Eric Gordon finished with 18 points, and Nene came off the bench to score 11 points.
The Rockets got 45 points from their bench and finished 18-for-42 on three-pointers.
"We had a couple coverages where we broke down and we didn't stay disciplined in what we were doing. And that guy James Harden is pretty good too," Grizzlies coach Dave Fizdale said.
In Miami, the Heat took advantage of Cleveland's decision to rest LeBron James and Kyrie Irving by beating the Cavaliers 120-92.
Goran Dragic led the Heat with 23 points.
Hassan Whiteside added 20 points and 13 rebounds for Miami, who have won 18 of their last 22 games.
The Heat made 18 three-pointers, the most by Miami this season and the second most in franchise history.
Miami kept pace with the Detroit Pistons in the battle for the eighth and final playoff position in the Eastern Conference.
Comments will be moderated. Keep comments relevant to the article. Remarks containing abusive and obscene language, personal attacks of any kind or promotion will be removed and the user banned. Final decision will be at the discretion of the Taipei Times.