Fan-friendly event launches Iditarod annual 1,000km race across Alaska
The sound of howling dogs filled downtown Anchorage on Saturday as mushers from around the world gathered for the ceremonial start of the Iditarod Trail Sled Dog Race.
About 2,000 dogs belonging to 72 mushers waited their turn — some more patiently and less vocally than others — to hit the trail this year. The race spans about 1,610km of Alaskan wilderness, including the last stretch when the teams battle the frozen Bering Sea coast en route to the finish line in the community of Nome.
The ceremonial start is a fan-friendly event designed to show off mushing to fans in Alaska's largest city. Spectators pet the dogs, mingled with mushers and even grabbed an autograph or two.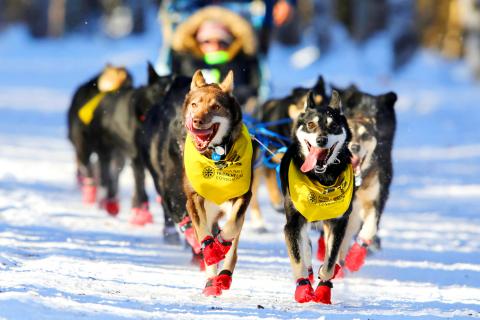 A dog team races in Anchorage, Alaska, on Saturday in the ceremonial start to the Iditarod Trail Sled Dog Race across the Alaskan wilderness.
Photo: Reuters
Racers left the downtown area every two minutes in a staggered start with an Iditarider — people who won auctions for a prime spot in a competitor's sled — for an 17km course on city trails and streets.
Carol Stedman, a retired postal worker from Alexandria, Virginia, was an Iditarider for the fifth time since 2011. It was the first time she came to Anchorage to watch the start of the race.
She said after that initial experience, she crossed the Iditarod off her bucket list and put it on her to-do list.
"Seeing the interaction between the mushers and the dogs is just spectacular," she said.
City crews trucked in snow overnight to make the streets ready for the dog sleds. Anchorage had more than enough snow to stage the ceremonial start, but just a few hundred kilometers north, the Alaska Range has little snow and open-water conditions.
That has prompted race officials to move the competition's official start from the Anchorage area, over the mountain range to Fairbanks to avoid dodgy spots.
It is the second time in the past three years, and third in the past 14, that the race has had to move to Fairbanks to find suitable winter conditions to start.
Comments will be moderated. Keep comments relevant to the article. Remarks containing abusive and obscene language, personal attacks of any kind or promotion will be removed and the user banned. Final decision will be at the discretion of the Taipei Times.