Buss family ownership battle for Lakers goes to court
A behind-the-scenes battle for control of the NBA's Los Angeles Lakers has gone public, with Jeanie Buss' lawyer saying she had rebuffed an initial bid by brothers Jim and Johnny to oust her as controlling owner of the club.
Jeanie Buss went to court on Thursday to seek a temporary restraining order preventing the brothers from holding a meeting next week to elect a new board of directors for the storied franchise.
According to court documents, the brothers proposed four directors, but did not include her.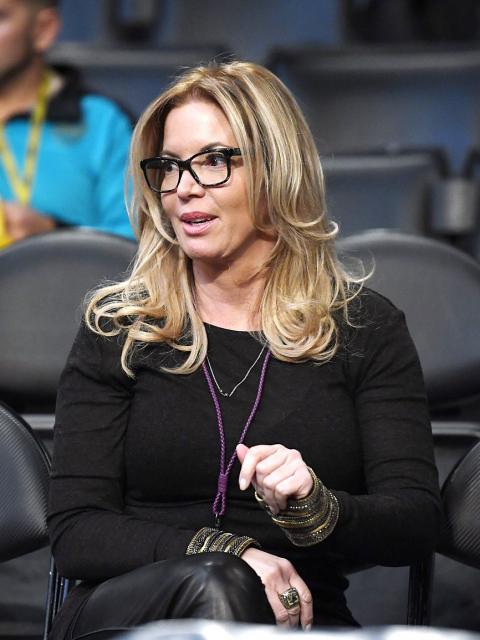 Los Angeles Lakers president Jeanie Buss sits in the stands ahead of their game against the Boston Celtics in Los Angeles on Friday. The Celtics won 115-95.
Photo: AP
If she is not on the board, she can not continue as the controlling owner of the team as outlined in the family trust set up by their late father, longtime Lakers owner Jerry Buss, who died in 2013 at the age of 80.
The brothers on Friday withdrew the request, but Jeanie Buss' lawyer Adam Streisand told the Los Angeles Times that he did not expect that to be the end of the matter.
"This is no doubt the beginning and not the end of the game-playing," Streisand told the newspaper. "They don't have a legal leg to stand on. This is a legal strategy doomed to failure."
In papers filed in the Los Angeles Superior Court on Thursday, Buss maintains that her brother Johnny "with the active participation of Jim, breached the express terms of the trust that require them to take all actions reasonably available to them to ensure that [Jeanie] remains the controlling owner of the Lakers."
NBA spokesman Mike Bass said in a statement that as far as the league is concerned, Jeanie Buss remains in charge of the team.
"Jeanie Buss is the sole governor of the Los Angeles Lakers and under league rules, she has control over the team," the statement said. "She has not only been a terrific leader for the Lakers organization, guiding the business before and after her father's passing, but an incredibly influential voice among all our team owners."
Two weeks ago, Jeanie Buss shook up the Lakers management, firing Jim Buss as vice president of basketball operations. She also sacked general manager Mitch Kupchak and hired former Lakers great Earvin "Magic" Johnson as president of basketball operations.
In announcing the moves she said Johnson — who sparked the Lakers to five NBA titles in the 1980s — would be in charge of all basketball operations and report directly to her.
Comments will be moderated. Keep comments relevant to the article. Remarks containing abusive and obscene language, personal attacks of any kind or promotion will be removed and the user banned. Final decision will be at the discretion of the Taipei Times.