Canadiens fight back to down Devils in overtime
The Montreal Canadiens found a way to win, despite basically showing up for only the third period and overtime against the New Jersey Devils.
Alex Galchenyuk scored on a power play at 2 minutes, 54 seconds of overtime as the Canadiens rallied from a two-goal, third-period deficit for a 4-3 victory on Monday to win consecutive games for the first time since early January.
"We need to play better and there's no doubt about that, but what you take from this game is two points that are important in the standings and the character we showed in the third," Canadiens coach Claude Julien said. "We have to realize you can't just show up and start playing hockey in the final 20 minutes because you're not going to beat many teams."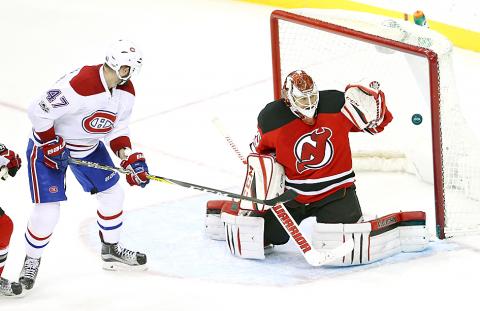 Alexander Radulov of the Montreal Canadiens, left, watches the puck go past New Jersey Devils goalie Cory Schneider in overtime of their NHL game in Newark, New Jersey, on Monday.
Photo: AP
The Canadiens won because their best players stepped up after they fell behind by 2-0 and 3-1 margins in the third period.
Coupled with Ottawa's loss to Tampa Bay, it gave Montreal a four-point lead in the Atlantic Division. The Senators have played two fewer games.
Winger Alexander Radulov, who assisted on the final three goals, got the Canadiens on the board just 11 seconds after John Moore put New Jersey ahead 2-0, then Max Pacioretty got his 30th and 31st in the final 11:23 of regulation, tying the game at 3-3 with 51.8 seconds to go.
"We knew we were still in the game," said goaltender Al Montoya, who made 34 saves. "We hadn't played our best hockey at all, and as a group we knew we could be better and our leadership stepped up."
The winner came with Devils defenseman Damon Severson serving a two-minute hooking penalty.
The Canadiens kept the puck in the zone and Galchenyuk eventually beat Cory Schneider with a shot from the top of the right circle.
"It was a big team win," Galchenyuk said. "Lot of guys chipped in on a lot of the key goals, Rads, Patch. We never stopped believing in this locker room. It wasn't going our way, but we stuck together, and knew to keep going and find a way to win, and we did."
Kyle Palmieri, John Moore and Travis Zajac scored for the Devils, who have lost four straight games (0-2-2), the past two in overtime. Cory Schneider made 29 saves.
Comments will be moderated. Keep comments relevant to the article. Remarks containing abusive and obscene language, personal attacks of any kind or promotion will be removed and the user banned. Final decision will be at the discretion of the Taipei Times.