Durant back with a bang as Warriors wallop 76ers
Kevin Durant returned from injury with a bang on Monday, scoring 27 points as the Golden State Warriors overpowered the Philadelphia 76ers 119-108.
Durant, who missed the Warriors previous game with a bruised left hand, showed no sign of lingering aftereffects to help power the Dubs to their fourth straight victory.
The Warriors, who are already assured of a place in the playoffs, improved to a league best 50-9 after rattling up their seventh win in eight games.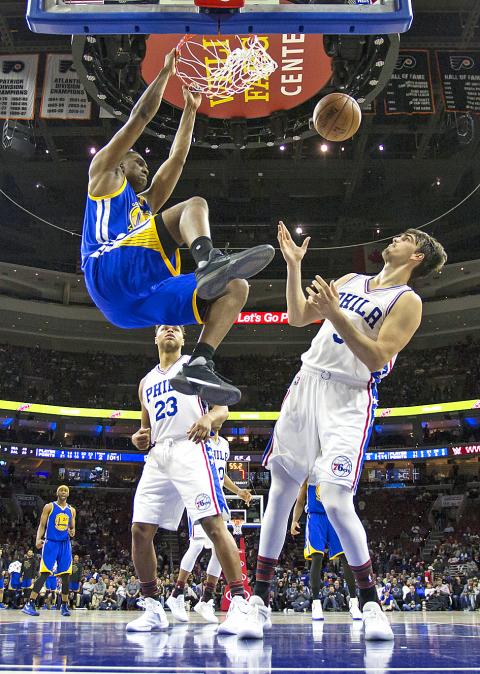 Kevon Looney of the Golden State Warriors, top, dunks the ball against the Philadelphia 76ers in their NBA game in Philadelphia, Pennsylvania, on Monday.
Photo: AP
Klay Thompson added 21 points for Golden State, while Zaza Pachulia scored a season-best 16 points.
Draymond Green chipped in with 14 points, 11 rebounds and five steals.
However, it was a rare off-night for Stephen Curry. The Warriors star contributed a respectable 19 points, but drew a blank from three-point range, missing all 11 of his attempts.
It was only the third time in 211 games Curry has failed to connect with at least one three-pointer.
"I forgot to adjust to the thickness of the air," Curry joked. "It happens, but you have to find other ways to impact the game."
"I thought we played a really good game," Golden State coach Steve Kerr said. "We just couldn't make a shot, but we made up for it by getting to the free-throw line."
Sixers coach Brett Brown said even despite Curry's off-night, the depth of the Warriors offense had been hard to counter.
"At times, we got lucky with them as a team," Brown said.
"They didn't shoot it the way a team would normally shoot it, but when you take away something, something else gets exposed. It's hard to guard everything," he said.
The defeat capped a day of disappointment for the Sixers, who earlier revealed that rookie center Joel Embiid — the team's top scorer and rebounder — faced an indefinite layoff due to a knee injury.
Comments will be moderated. Keep comments relevant to the article. Remarks containing abusive and obscene language, personal attacks of any kind or promotion will be removed and the user banned. Final decision will be at the discretion of the Taipei Times.