Kevin Love-less Cavaliers beaten by Mavericks
Struggling with star forward Kevin Love sidelined by back spasms, defending NBA champions the Cleveland Cavaliers were downed 104-97 in Dallas, Texas, on Monday.
LeBron James led the Cavaliers with 23 points on nine-of-19 shooting, while Kyrie Irving added 18 points and five assists, but made six turnovers, only one fewer than the entire Mavericks squad.
However, an up-tempo Dallas attack proved more than the Cavaliers could stand a night after defeating Oklahoma City.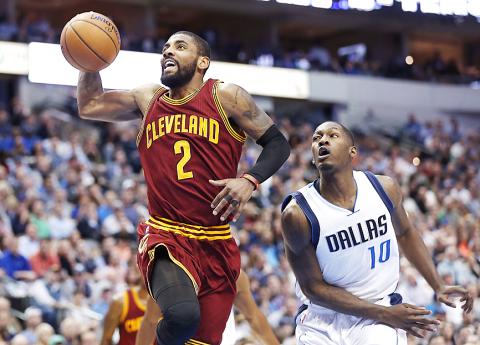 Cleveland Cavaliers guard Kyrie Irving, left, goes to the basket past Dallas Mavericks guard Dorian Finney-Smith in the first half of their NBA game in Dallas, Texas, on Monday.
Photo: AP
The Mavericks seized a 100-85 edge with 4 minutes, 18 seconds to play on a three-pointer by Yogi Ferrell and coasted home from there.
Love, averaging 20.1 points and 11.1 rebounds, stayed home for medical tests on Monday and no structural damage was found in his back, but he will also miss the Cavaliers' home game against Minnesota today.
Asked if he thought the Cavaliers would make a trade for another playmaker, James replied: "If it happens, it happens. We've got what we got. We've got to get better every game."
Dallas forward Harrison Barnes had a game-high 24 points and 11 rebounds, while guard Wesley Matthews added 21 points. Ferrell had 19 points and Curry added 16 for the Mavericks.
The Cavaliers fell to 32-15, but still remained the top team in the Eastern Conference by 2.5 games over Boston, while the Mavericks rose to 18-30, third-worst in the Western Conference, but only four games off the final West playoff spot.
Isaiah Thomas, the NBA's top fourth-quarter scorer, netted 24 of his 41 points in the final period to lift the Boston Celtics over the Detroit Pistons 113-109, despite squandering an 11-point lead.
Thomas was one point shy of joining Larry Bird and Paul Pierce as the only Celtics to average 33 points in an entire month.
"I was close, but I wasn't trying. I was just trying to do what my team needed me to do," Thomas said. "It doesn't sound real. To have my name up there with those legends is unbelievable."
Boston improved to 30-18, a game ahead of Toronto at the top of the Atlantic Division.
Pistons big man Andre Drummond had a season high-tying 28 points and 22 rebounds in a losing effort.
In Phoenix, Arizona, Mike Conley scored a career-high 38 points, hitting seven-of-10 three-pointers, while Marc Gasol and Zach Randolph each added 18 as the Memphis Grizzlies downed the Suns 115-96.
The Philadelphia 76ers, playing without team points and rebounds leader Joel Embiid, had 23 points and 10 rebounds from Robert Covington, as well as 17 off the bench from Dario Saric in a 122-119 home victory over Sacramento.
Sacramento's DeMarcus Cousins produced 46 points, 15 rebounds and five assists, but the Kings squandered a 16-point second-quarter lead as the 76ers finished the month 10-5 — their best one-month mark since going 13-4 in 2012.
Embiid missed his fifth game of six with a bruised left knee.
A spectacular left-handed slam dunk by James Johnson in the final minute added an exclamation point to Miami's eighth consecutive victory, a 104-96 triumph over the visiting Brooklyn Nets.
Johnson leaped high to rebound a missed shot and slammed the ball home in one motion to pull Miami ahead by the final margin.
Goran Dragic had 20 points and eight assists, while Dion Waiters added 19 for the Heat, who improved to 19-30, while the Nets, with the worst defense in the NBA, slid to a league-worst 9-39.
Andrew Wiggins scored a game-high 27 points, Karl-Anthony Towns added 23 points and 12 rebounds, and Ricky Rubio had 22 points to spark the Minnesota Timberwolves over visiting Orlando 111-105 in overtime.
Wiggins sank a tying jumper with 10 seconds remaining in the fourth quarter to force overtime, then scored six points in the extra session as the Timberwolves improved to 19-29.
Comments will be moderated. Keep comments relevant to the article. Remarks containing abusive and obscene language, personal attacks of any kind or promotion will be removed and the user banned. Final decision will be at the discretion of the Taipei Times.