Thomas stars as Celtics KO Wizards
It is a good thing the Boston Celtics and Washington Wizards were able to settle their differences on Wednesday, so Isaiah Thomas did not have to call on his friend Floyd Mayweather Jr.
The former champion boxer was sitting in the front row when the NBA teams had words at the final buzzer, but Thomas had the last word as he scored 20 of his 38 points in the fourth quarter and the Celtics won 117-108.
Fortunately Mayweather was not needed, but he did leave the TD Garden Arena with a souvenir — one of Thomas' jerseys.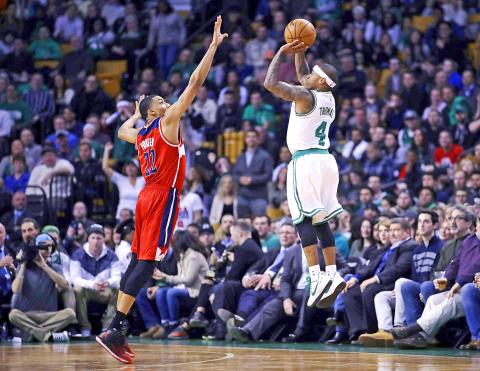 Isaiah Thomas of the Boston Celtics, right, shoots a three-pointer over Otto Porter Jr of the Washington Wizards in their NBA game in Boston, Massachusetts, on Wednesday.
Photo: AP
"I just tell guys: 'Keep it hoop,'" Thomas said. "Nobody's built like the guy that was in that front row, Floyd Mayweather, so just keep it hoop and then move onto the next one."
Washington and Boston have had a dislike for each other since November last year when Wizards guard John Wall was thrown out of the game after a hard foul on Boston's Marcus Smart.
Smart pulled Bradley Beal down during Wednesday's game and later committed a hard foul. Smart and Beal exchanged words in front of the Wizards' bench.
At the end of the game, Boston's Jae Crowder jabbed a finger in Wall's face and Wall attempted a half-hearted slap at Crowder, but missed before the two were separated by teammates and officials.
"Just some altercation," Wall said. "We knew there was going to be some trash talking."
Smart was led away by team officials.
Thomas' 20 points for the quarter gave him the league lead in fourth-quarter scoring over Russell Westbrook.
He was seven of 12 from the floor in the quarter, three of five from beyond the arc. One was a bomb that led to a high-five from Mayweather.
"He's been playing as impressive as I've seen someone play," teammate Al Horford said of Thomas.
Comments will be moderated. Keep comments relevant to the article. Remarks containing abusive and obscene language, personal attacks of any kind or promotion will be removed and the user banned. Final decision will be at the discretion of the Taipei Times.