Westbrook posts his fifth consecutive triple-double
Russell Westbrook became the first player since Michael Jordan in 1989 to notch five straight triple-doubles in the NBA, his latest on Sunday powering the Oklahoma City Thunder to a 101-92 victory over the Pelicans in New Orleans.
Westbrook scored 28 points, pulled down 17 rebounds and handed out 12 assists for his 10th triple-double of the season and his fifth in a row.
His streak is the longest since Jordan posted seven straight in 1989.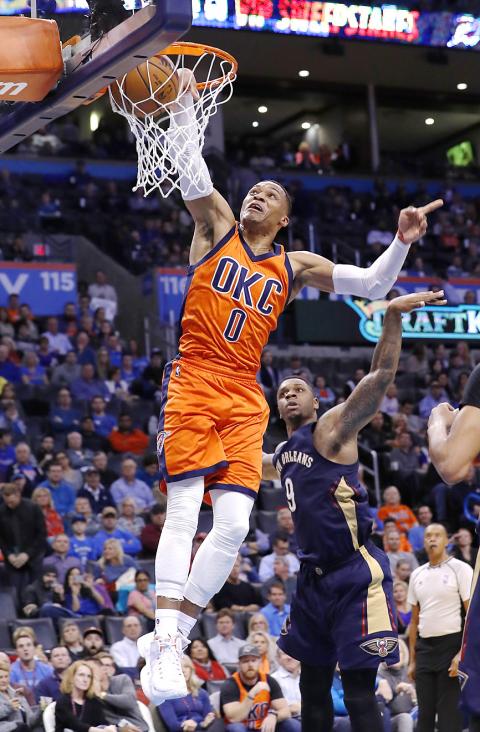 Oklahoma City Thunder's Russell Westbrook, left, dunks against the New Orleans Pelicans in their NBA game in Oklahoma City on Sunday.
Photo: AP
"It's just a blessing," Westbrook said. "I'm very, very blessed to be able to play the game I love. Like I've said before, I never take it for granted. Every time I step on the floor, I'm blessed beyond belief."
Pelicans coach Alvin Gentry said before the game that in his opinion Westbrook is "the best athlete in the NBA."
"It's fun watching him play against everybody else," Gentry said.
Center Enes Kanter recorded 17 points and 10 rebounds. Victor Oladipo added 15 points for the Thunder, who withstood 37 points and 15 rebounds from Anthony Davis.
Rookie Buddy Hield broke out of a slump with 16 points, all in the second half, for the Pelicans, who trailed by as many as 15, but cut the lead to seven points with three minutes remaining.
Westbrook then produced a fast-break finger roll to stretch the edge back to 93-84 with 2:39 to play.
New Orleans pulled to within 94-90, but Westbrook's last-minute three-pointer put the game away.
Gentry said the Pelicans did about all they could do.
"I thought we did about as good of a job on Russell in the first half as you can do," he said. "That being said, the guy still ends up with 17 rebounds, 11 assists, 27 points, or whatever it is."
The Orlando Magic ended a seven-game run of futility against Detroit, downing the Pistons 98-92 thanks to a stellar performance from Serge Ibaka.
Ibaka scored 21 points with seven rebounds and four assists for the Magic, who had not beaten the Pistons since Nov. 17, 2014.
"I don't care about the stats," Ibaka said after the Magic won for the third time in four games after a four-game slump. "We've been looking for those wins for a long time now."
Comments will be moderated. Keep comments relevant to the article. Remarks containing abusive and obscene language, personal attacks of any kind or promotion will be removed and the user banned. Final decision will be at the discretion of the Taipei Times.