Djokovic asks for more respect from the officials
Novak Djokovic called for officials to show more respect after the world No. 2 was warned for taking too long between points in his ATP World Tour Finals win over David Goffin on Thursday.
Djokovic was given a time violation by umpire Fergus Murphy when he took a lengthy pause after losing a long rally in the first set.
The Serb responded by having an increasingly animated discussion with Murphy at the end of the game, which included Djokovic appearing to say the official "had no clue about the game."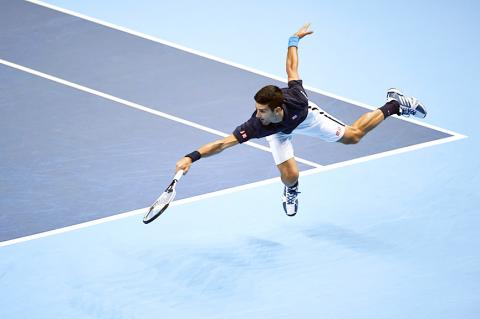 Serbia's Novak Djokovic returns to David Goffin of Belgium in their ATP World Tour Finals singles match at the O2 Arena in London on Thursday.
Photo: Reuters
Djokovic also vented his frustrations to tournament supervisor Tom Barnes before finally focusing on the match and, while conceding he sometimes takes too long between points, he said the officials should take a softer approach before handing out warnings.
"First of all, I accept and I know that I'm one of the players that takes the most time. There is no doubt. I'm not running away from that," Djokovic said. "Every time that I'm late, if I get a so-called soft warning, or prewarning, I'll accept it and I won't say a word, but I think it's fair, correct and respectful towards the player and to the game if you go over the first time, let's say, over the limit, that you at least get a heads up."
"That's all I'm asking for, to be honest. I know that the rules are strict, but there should be a kind of a feel, a sense for the game," he said. "It was the fourth game of the match, after a long point, the first time I went over, a few seconds, he gives me a warning. I didn't think that was supported by the right facts. That's why I wanted to have a conversation and understand why."
It was not the first time Djokovic has been involved in an altercation in this week's ATP World Tour Finals at the O2 Arena in London after he slammed a ball into the crowd during his match against Dominic Thiem and then had a tetchy exchange with a journalist about the incident.
Djokovic's angst has come to the fore at a time when he has been mired in a prolonged slump that saw him lose the world No. 1 ranking to Andy Murray amid rumors about problems in his private life.
Djokovic insisted he remains in control of his emotions.
"Look, we are all humans. Every single day we face some certain kind of challenges, mental challenges, private, professional life, emotions, thoughts," he said. "Certainly there are stages of the year or of the day, moments when you feel worse, and you feel better. The important thing is to be conscious of it and just deal with it in a best possible way that works for you."
While Djokovic had already advanced, the second semi-final spot from the group went to Milos Raonic, who beat Thiem 7-6 (7/5), 6-3.
Raonic, who reached the final of Wimbledon this year, but lost to Murray, ended up with 13 aces and 31 winners against Thiem.
"I stepped up when I had an opportunity in the tiebreak. I stepped up at the beginning of the second set and the end of it," Raonic said. "There's a lot definitely to be proud of, playing under that kind of pressure."
Raonic also said he got some tips this week from John McEnroe, who worked with the Canadian during the grass-court season.
"He shares a lot of wisdom with me, a lot of his opinions. I respect that," Raonic said. "It was a big plus to have him there."
Additional reporting by AP
Comments will be moderated. Keep comments relevant to the article. Remarks containing abusive and obscene language, personal attacks of any kind or promotion will be removed and the user banned. Final decision will be at the discretion of the Taipei Times.