Djokovic still motivated to be best in world
Novak Djokovic has set his sights on regaining the world No. 1 ranking and silencing the doubters by winning the ATP Tour Finals for a record-equaling sixth time.
Djokovic arrives at London's O2 Arena in the unusual position of being questioned by critics who claim he has lost his appetite for success.
Since winning the French Open in June, to secure the one Grand Slam missing from his trophy cabinet, Djokovic has been mired in a puzzling slump that ended his 122-week reign on top of the world last weekend when Andy Murray climbed above him.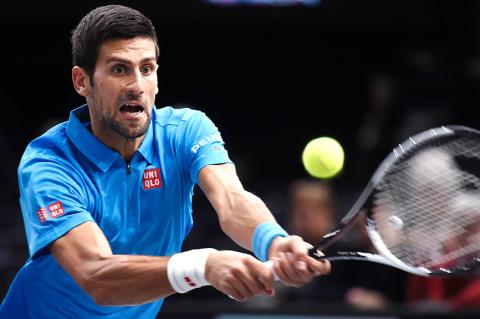 Serbia's Novak Djokovic returns to Bulgaria's Grigor Dimitrov in their third-round match at the ATP World Tour Masters 1000 indoor tournament in Paris, France, on Nov. 3.
Photo: AFP
However, Djokovic, who also clinched the Australian Open title in January, can still round off the year in a more upbeat fashion if he retains the Tour Finals crown he has won for the last four years.
Winning the prestigious season-ending event on the banks of the River Thames should allow him to reclaim the top ranking from Murray and would also equal Roger Federer's record of six Tour Finals victories.
"My high standard of results has taken its toll a bit. I didn't get to recover fast after the French Open to compete on the highest level," Djokovic told reporters in London on Friday.
"I had to dig deep and take some time to reflect because it was an incredible achievement," he said. "It took a bit of time to get back on track, but all in all it was a very good year. I've had a good couple of months. It's not been up to the standards of the 12 to 15 months before that, but in sport you can't always expect to win. I'm here in London to crown this year with the best possible result. I've had an amazing last four years at the O2 Arena."
Djokovic has won only one of his six tournaments since Roland Garros, with lackluster exits from Wimbledon and the Rio Olympics leaving some to whisper about problems in the Serb's private life and question the influence of "spiritual guru" Pepe Imaz.
Imaz has travelled to tournaments with the 29-year-old and is reported to have become an influential member of his inner circle at a time when regular coach Boris Becker has not been at Djokovic's side so often.
Having been reduced to tears following his shock loss to Juan Martin del Potro at the Olympics, Djokovic is well aware there are questions about his emotional state at present.
However, the 12-time Grand Slam winner reacted in feisty fashion when asked about his state of mind heading into the Tour Finals, which he opens against Austria's Dominic Thiem today.
"What makes you say that? I'm my normal self every day. I was talking about certain ups and downs that everybody has," he said.
"You do have days when you are feeling maybe less determined to play, and some days you feel more, but as long as the majority of the days you feel positive then things are going well," he said. "That's the case with me, even after playing 10 plus years at the professional level. I still feel I have a lot of gas in the tank, a lot of years ahead of me."
Asked what motivates him now he has achieved so much, Djokovic added: "Grand Slams and the No. 1 are the pinnacle of our sport. I value them as the highest goals and ambitions of myself."
However, Djokovic acknowledged Murray is deserving of pole position at present and poses a significant threat to his ambitions.
"I have only words of praise for what he has achieved in the last year or so. Definitely he is a well-deserved No. 1 at this point," Djokovic said.
Comments will be moderated. Keep comments relevant to the article. Remarks containing abusive and obscene language, personal attacks of any kind or promotion will be removed and the user banned. Final decision will be at the discretion of the Taipei Times.