Kei Nishikori rallies to advance to Basel final
Kei Nishikori on Saturday saved two match points to defeat Gilles Muller 4-6, 7-6 (7/3), 6-3 to make the Swiss Indoors final where he is to face Marin Cilic, who battled past qualifier Mischa Zverev 4-6, 7-5, 6-3.
Japanese star Nishikori performed his escape act in the second set against Luxembourg's big hitter, who rained down 20 aces in the 2 hour, 15 minute thriller.
Third-seeded Nishikori saved the first match point with a perfectly timed lob; his second was an ace.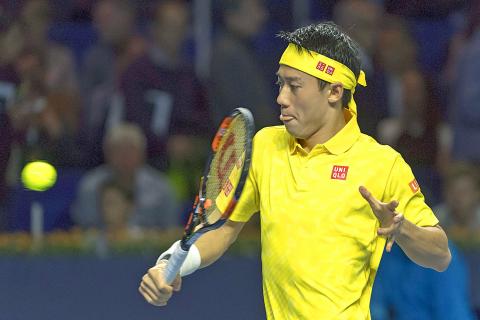 Japan's Kei Nishikori returns to Luxembourg's Gilles Muller in their Swiss Indoors semi-final at St Jakobshalle in Basel, Switzerland, on Saturday.
Photo: EPA
"I saw that he was almost touching the net, but my arm was shaking as it was match point," Nishikori said of the winner that pulled the score level 5-5 in the second set. "I was pretty confident with the lob."
"It's never easy to save two match points — I was happy to get through this tight moment," Nishikori added.
After his heroics in the second set, Nishikori was able to steady his game to earn a hard-earned win over Muller, ranked 37.
"I got more comfortable and played a good match. The balls fly a lot here, you really have to hit the ball," Nishikori said. "Muller has a great serve. I'm just happy to have won the match."
Nishikori has already qualified for next month's ATP World Tour Finals in London for a third straight edition.
The world No. 5 will aim for only his second title of the season when he plays Cilic in a rerun of the 2014 US Open final won by the Croatian.
"It's tough to think of the past, but when I remember that match it gives me some guidance about how to play this next one," Cilic said. "It will be another tight match like others we've played.
"I'm looking forward to the final," he added.
Cilic, who beat Zverev with 16 aces, stands 4-7 against Nishikori.
Cilic now stands provisional ninth for the eight-man field at the Tour Finals after passing Tomas Berdych in the table.
ERSTE BANK OPEN
AFP, VIENNA
Andy Murray was given a helping hand in his bid to snatch the world No. 1 spot when Spanish veteran David Ferrer withdrew from their Erste Bank Open semi-final on Saturday with a leg injury.
Wimbledon and Olympic champion Murray was yesterday to face Jo-Wilfried Tsonga in the final after the Frenchman saved a match point in a grueling 5-7, 7-5, 7-6 (8/6) victory over Ivo Karlovic.
Murray, the 2014 Vienna title winner, can snatch Novak Djokovic's world No.1 ranking if he wins the final, as well as next week's BNP Paris Masters.
However, even if Murray succeeds on both fronts, Djokovic must still lose before the final in the French capital for the British star to take the top spot.
"I knew that David had an injury at the beginning of the week," Murray said. "He played a very long match yesterday [against Victor Troicki], so that was unfortunate for him. He's one of the more robust players and doesn't often have too many niggles."
"He must have been in quite a bit of pain. It's unfortunate for him, but I'll try to get ready for the final and use today as a rest day," Murray said. "It will be a hard match, but I'm motivated to finish the season strong. Being in another final after a tough week is good."
Defending champion Ferrer, whose only other career match withdrawal came in 2009, said he handed Murray a walkover in order not to cause long-term damage to his left leg.
"After yesterday's match, I finished with an injury in my left leg," Ferrer said. "The problem is in the muscle and now I will wait 48 hours for the MRI [magnetic resonance imaging] results. I have to be ready for next season."
Tsonga, the 2011 champion in Vienna, will look to overturn a four-match losing streak against Murray in yesterday's final. Murray leads their head-to-head 13-2, a record that includes their only meeting this year in the quarter-finals at Wimbledon.
Comments will be moderated. Keep comments relevant to the article. Remarks containing abusive and obscene language, personal attacks of any kind or promotion will be removed and the user banned. Final decision will be at the discretion of the Taipei Times.