Cubs head home with NLCS lead
HISTORY REPEATING? More than a decade after losing two games and the NLCS to the Marlins at Wrigley Field, the Cubs are still chasing their first World Series since 1908
The Chicago Cubs moved within one win of their first trip to the World Series in 71 years by winning 8-4 against the Los Angeles Dodgers on Thursday, taking a 3-2 lead in the National League Championship Series (NLCS).
Chicago starter Jon Lester pitched seven sharp innings and Addison Russell hit a tiebreaking homer for the Cubs, who are scheduled to host Game 6 at Wrigley Field today and Game 7 if required.
"The city of Chicago has got to be buzzing," Cubs manager Joe Maddon said. "We're not going to run away from anything. It's within our reach right now."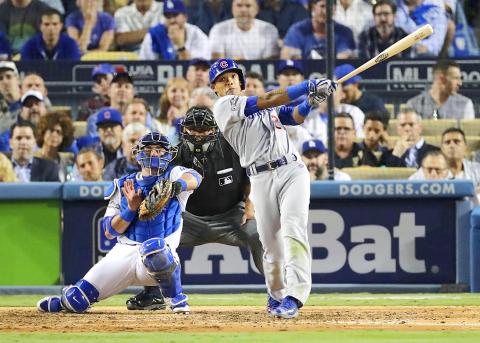 The Chicago Cubs' Addison Russell, right, hits a two-run homer off the Los Angeles Dodgers' Joe Blanton in Game 5 of the National League Championship Series in Los Angeles, California, on Thursday.
Photo: AP
The Cubs' first opportunity to clinch the series comes today, when Dodgers ace Clayton Kershaw faces Chicago's Kyle Hendricks, who led the majors this season in earned run average.
Of course, the Cubs were in the same favorable position 13 years ago — heading home to Wrigley with a 3-2 lead in the NLCS, only to lose both games to the Marlins in one of their most excruciating failures.
More than a decade later, the Cubs are still chasing their first World Series championship since 1908.
"We've heard the history, but at the same time we're trying to make history," center fielder Dexter Fowler said.
Russell hit a two-run homer for the second straight game. This one was a sixth-inning drive off losing pitcher Joe Blanton that gave Chicago a 3-1 lead.
"Just rounding the bases, it was pretty exciting," Russell said. "Pumped up, not only for myself, but for the team and that little cushion that Jonny [Lester] had to go forward from that."
Budding star Javier Baez was in the middle of everything for the Cubs. The second baseman made a sensational defensive play when the game was still close in the seventh, and his three-run double capped a five-run eighth that made it 8-1.
Baez had three of Chicago's 13 hits, matching the team's total in Game 4, when the Cubs snapped a 21-inning scoreless streak and won 10-2.
Lester allowed one run, improving to 2-0 in three playoff starts this year. He has given up two runs in 21 innings. He struck out six and walked one.
"These guys won the game for us," Lester said, nodding toward Russell and Baez. "I was just kind of along for the ride."
Blanton took his second loss of the series. He gave up consecutive homers in the eighth inning of Game 1, including a tiebreaking grand slam by Miguel Montero.
"Our confidence hasn't wavered," Roberts said. "This series certainly isn't over."
Chicago jumped on struggling Dodgers rookie Kenta Maeda from the start. Fowler singled leading off the game and scored on Rizzo's double to right two batters later.
Maeda gave up one run over 3-2/3 innings. He has allowed eight earned runs in 10-2/3 innings this post-season.
The Dodgers were still in it until their defense fell apart in the eighth, allowing two runs on infield hits without managing an out.
The odds are against Los Angeles being able to win both games in Chicago, but any game with Kershaw on the mound is a game the Dodgers believe they should win.
"We can grab that momentum by one name: Kershaw," Gonzalez said. "We don't want to put it all on him, but if we score a couple of runs, we'll feel real good."
Comments will be moderated. Keep comments relevant to the article. Remarks containing abusive and obscene language, personal attacks of any kind or promotion will be removed and the user banned. Final decision will be at the discretion of the Taipei Times.