Heat, scattered crowds eclipse racing in Doha
Fierce heat and sparse crowds have overshadowed the first UCI Road World Championships to be hosted in the Middle East as riders act as guinea pigs in a groundbreaking trial to test the impact of extreme heat on performance.
The eight-day championship was yesterday to culminate with the blue riband men's road race, promising a great show on TV at least on the Pearl-Qatar, an artificial island, against a backdrop of marinas, luxury buildings and sunny skies in Doha.
Denmark's Amalie Dideriksen on Saturday timed her sprint to perfection to upset the favorites and claim the women's road race world title.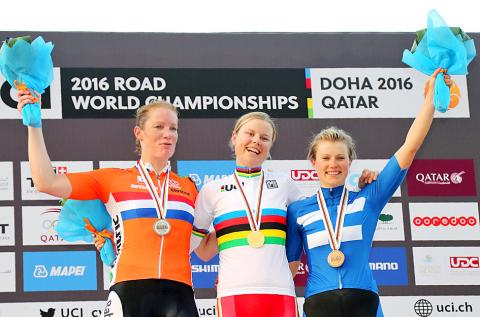 From left, Dutch silver medalist Kirsten Wild, Danish gold medalist Amalie Dideriksen and Finnish bronze medalist Lotta Lepisto celebrate on the podium after the UCI Road World Championships elite women's road race in Doha on Saturday.
Photo: AFP
Dideriksen, 20, stayed quiet all day before surging past pre-race favorite Kirsten Wild of the Netherlands just before the line.
Finland's Lotto Lepisto took third place ahead of defending champion Lizzie Deignan.
The Netherlands controlled most of the 134.5km race, but they were eventually helpless when Dideriksen, the two-time junior world champion, burst from the middle of the road in the final straight.
Races have been run in fierce temperatures regularly hitting 38°C.
"Organizing a race here in October is perhaps not very wise," Belgian Olympic champion Greg Van Avermaet said.
"The heat in Qatar is extreme," Dutch cyclist Roxane Knetemann added. "I cannot explain how excruciating it feels to be riding 40km through the desert. You'd expect organizers and the UCI [International Cycling Union] to have some knowledge about cycling."
Several riders, including Dutch Olympic silver-medalist Tom Dumoulin, have swallowed a small device named e-Celsius before races, which allows their temperature to be measured.
The pill sends a signal to a receiver used by doctors so they can constantly monitor a rider's temperature, said Sebastien Racinais, of the Doha-based Aspetar clinic, which is providing medical staff for the championships.
Medics insist no riders have suffered amid claims Dutch cyclist Anouska Koster crashed in the team time trial due to heat exhaustion.
"It was not a problem of heat exhaustion, it was a problem of exhaustion performing a time trial," said Yorck Schumacher, also of the Aspetar clinic. "She [Koster] confirmed that she is always like that in time trials. The heat in this championships should not be an issue."
Schumacher said that other factors, such as wind and humidity, also have to be considered to calculate the full impact of conditions.
If done so, major tournaments such as the 2008 Beijing Olympics and the 2014 soccer World Cup in Brazil were tougher for competitors and players than this week in the Persian Gulf, he said.
Schumacher estimates that "around 15-20 cyclists for any event" have used the tiny device in Doha, with the data to be examined later to see how competitors deal with the heat and recovery.
Meanwhile, temperatures in Doha have receded slightly, making it likely that yesterday's event would cover the full 257km.
Organizers had said they could reduce race lengths because of the heat, but there have been no reductions.
"I've competed in about 100 races during my career in such heat," said Belgian Tom Boonen, one of the favorites. "We've known for a long time that the worlds would take place in Qatar, so we knew it was going to be hot. If you organize a race in Siberia, it's going to be cold."
Heat was also a subject of debate concerning the 2022 World Cup in Qatar, with soccer's world governing body FIFA deciding it would take place in November-December.
Frustration has also been vented over the lack of spectators, with a few national flags and a handful of foreign fans are all that greeted competitors.
"It would sure be nice to have some more fans here to celebrate with," Germany's Tony Martin said, after claiming the individual time trial for a record-equaling fourth time and his second gold of the week.
UCI, which on Saturday confirmed through president Brian Cookson that it received 10 million Swiss francs (US$10.1 million) for the event, said the choice of Qatar was in line with its "globalization" policy, as the Middle East had never hosted.
"The atmosphere was a bit lacking, but competitors at these worlds, which are geared towards television, had above all a race to do, a title to win," Van Avermaet said.
Former French champion Laurent Jalabert, now a consultant for France Televisions, added: "It's less fun for the riders to compete on a course where there are few spectators, but when you're an athlete, the competitive edge takes precedence over everything else."
"For television viewers, it changes nothing or not much. World championships, there have been very tough, rainy, scorching. The most important is that the races are regular," he said.
Additional reporting by Reuters
Comments will be moderated. Keep comments relevant to the article. Remarks containing abusive and obscene language, personal attacks of any kind or promotion will be removed and the user banned. Final decision will be at the discretion of the Taipei Times.