Rookies lead Maple Leafs to 4-1 victory
REJUVENATION: After finishing last season as the worst team in the NHL, Toronto have shown themselves to be much faster and highly skilled at the start of this season
The last time Mitch Marner remembers attending a Maple Leafs game as a fan, Mats Sundin returned to Toronto's Air Canada Centre as a Vancouver Canuck.
More than seven years later, Sundin was back to see his No. 13 raised to the rafters, and Marner was there, too, scoring his first NHL goal to help Toronto roll over the Boston Bruins 4-1 for their first win of the season on Saturday night.
Marner got his first goal in only his second game, joined on the score sheet by fellow rookie and Toronto native Connor Brown. Their efforts came on the heels of Auston Matthews' historic debut, when he became the first player in the modern NHL to score four goals in his first game.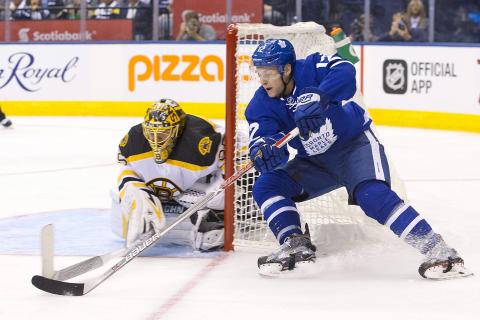 The Toronto Maple Leafs' Connor Brown, right, brings the puck around the net in front of the Boston Bruins' Anton Khudobin in the second period of their NHL game at the Air Canada Centre in Toronto on Saturday.
Photo: The Canadian Press via AP
"It's a lot of excitement and obviously there's going to be [a] learning curve and growing pains throughout the way, but they've been playing great so far," teammate James van Riemsdyk said of the youths.
Brown and Marner opened the scoring about 10 minutes apart, landing the Leafs in the record books once more. Toronto became the first team since expansion in 1967-1968 to have rookies combine for the first six goals to start a season, according to the Elias Sports Bureau.
Brown had the game's first goal after barely two minutes, joined shortly after by 19-year-old Marner and then Van Riemsdyk a few minutes after that.
The fourth overall pick in last year's draft, Marner took a pass from Tyler Bozak just outside the Boston blue line, gained the offensive zone with space and fired a shot far-side past goaltender Anton Khudobin.
A native of nearby Thornhill, Ontario, Marner followed with an exuberant celebration.
"To finally be playing in front of these fans for real, it's pretty crazy," Marner said. "And for the first one to go in in front of them, it's kind of sweet."
Outside of Matthews, Marner was perhaps Toronto's most dangerous player in a season-opening overtime loss to Ottawa on Wednesday. He had six shots in the 5-4 overtime defeat, following that up with a goal and four more shots in 15-plus minutes against the Bruins on Saturday.
He has shown a knack for getting behind the opposition's defense, finding a seam and some space for his first goal on Saturday.
"That's just good anticipation and good smarts where he can pick his spots to use his speed to get himself in those situations," Van Riemsdyk said.
Marner said he would give the puck from his first goal to his parents.
Anton Khudobin allowed four goals on 20 shots for Boston. David Pastrnak scored his third goal in two games this season.
"Overall, not a good enough effort on our part, and at the end of the night, you don't deserve the win," Bruins coach Claude Julien said.
The worst team in the NHL last season, the Leafs have quickly shown themselves to be a much faster and highly skilled entity in the early days of this season, led by Marner, Matthews and 20-year-old William Nylander.
However, that youth often shows itself in less effective ways, including a messy second period in which Toronto's sloppiness with the puck led to chances and sustained offensive zone time for Boston.
"I'd like us to obviously take better care of the puck and so we'll learn how to do that," Leafs coach Mike Babcock said.
Frederik Andersen gave up only one goal on 25 shots following his wobbly five-goal outing in Wednesday's season opener.
Matthews was quiet on Saturday after his unparalleled showing earlier in the week. He was held point-less and finished with only two shots in nearly 17 minutes.
In other results, it was:
‧ Penguins 3, Ducks 2
‧ Blackhawks 5, Predators 3
‧ Capitals 2, Islanders 1
‧ Sharks 3, Blue Jackets 2
‧ Blues 3, Rangers 2
‧ Panthers 4, Red Wings 1
‧ Avalanche 6, Stars 5
‧ Lightning 3, Devils 2
‧ Wild 4, Jets 3
‧ Coyotes 4, Flyers 3, OT
‧ Senators 4, Canadiens 3
‧ Canucks 2, Flames 1, OT
Comments will be moderated. Keep comments relevant to the article. Remarks containing abusive and obscene language, personal attacks of any kind or promotion will be removed and the user banned. Final decision will be at the discretion of the Taipei Times.