Kershaw gets save as Dodgers win series
Los Angeles ace Clayton Kershaw did his job in an unfamiliar closer role to secure a 4-3 win for the Dodgers in Washington on Thursday, clinching the series and advancing to the National League Championship Series against the Chicago Cubs.
After regular closer Kenley Jansen issued a pair of walks with one out in the ninth inning, Kershaw was called up for his first relief appearance in seven years.
He got Daniel Murphy to pop out, then struck out Wilmer Difo to end it, taking his first ever save in the majors and responding to question marks over his reliability in playoff games.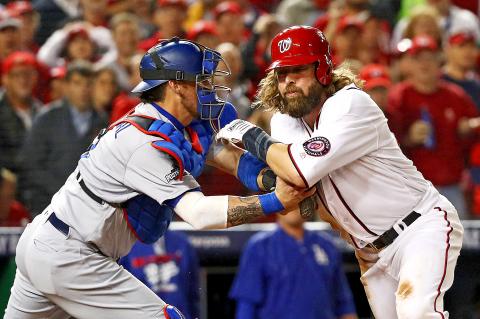 Los Angeles Dodgers catcher Yasmani Grandal, left, tags out Jayson Werth of the Washington Nationals in Game 5 of their National League Division Series at Nationals Park in Washington on Thursday.
Photo: AFP
"We're all exhausted after every game, even if you're sitting on the bench," Kershaw said. "These games are such grinds that it's just such a relieving feeling when they're over and you win. It's a little bit of an adrenaline rush right there."
Washington lost the series 3-2, leaving the Nationals still without a post-season series win in their history.
Los Angeles manager Dave Roberts said before the game that there was no chance of Kershaw making a relief appearance, as it would only be two days since he threw 110 pitches in Game 4, but that changed.
"Clayton came to me in the seventh and said that he had an inning if I needed it," Roberts said.
Jansen was forced into action earlier than usual, in the seventh inning, and threw a career-high 51 pitches, necessitating a change on the mound.
It had been 10 years since Kershaw's previous save, in the minor Gulf Coast League. His catcher that day was Jansen, who only took up pitching in 2009.
Washington were leading 1-0 in the sixth, when Jayson Werth walked and Ryan Zimmerman smacked a two-out double to left. However, the third-base coach waved Werth to go for home, only for him to be easily thrown out, ending the inning.
It was a game-changing moment. What should have been a multi-run lead stayed at one, and the Dodgers then came out and scored four runs in the top of the seventh, including Joc Pederson's homer off Max Scherzer and Justin Turner's two-run triple off Shawn Kelley.
Chris Heisey responded for Washington in the bottom of the seventh with a two-run homer that made it 4-3, but then came Jansen and then Kershaw.
The West champion Dodgers are back in the National League Championship Series for the first time since 2013, but they have lost in their past three trips to that round, failing to make it to the World Series since they won their most recent championship in 1988.
A Washington team still have not won a post-season series since the Senators were the 1924 World Series champions.
"I'm not ready to go home," Nationals first-year manager Dusty Baker said. "I haven't been home since February, but I would have gladly stayed a couple more weeks."
Comments will be moderated. Keep comments relevant to the article. Remarks containing abusive and obscene language, personal attacks of any kind or promotion will be removed and the user banned. Final decision will be at the discretion of the Taipei Times.